In the throes of the summer traveling season, several news items about pets and airports have crossed our transom.
First, the bad news - and a caution to anyone either shipping pets or purchasing them long distance - seven puppies died Tuesday in the cargo hold of an American Airlines jet between Tulsa, OK and Chicago's O'Hare Airport.
The airline says it does not ship pets when the temperature hits 85 degrees, but the Associated Press reports the temperature on the tarmac at Tulsa at the time the plane took off was already 86 degrees. An airline spokeswoman declined to name the shipper or the breed of dogs. A study recently showed short-nosed dogs, such as pugs and bulldogs are at greater risk traveling in airline cargo holds because of breathing problems. More from the AP here.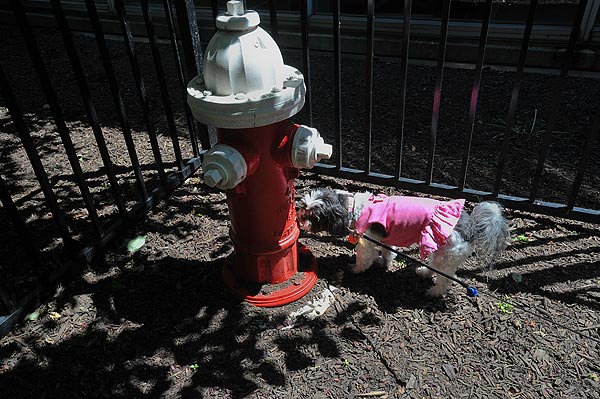 Good news for people traveling with pets out of Philadelphia International Airport: There are now a number of places where your dog can relieve himself before, after or in between flights. The seven new pet relief areas feature a mulch surface, biodegradable waste bags, a four-foot fence and faux fire hydrant.
More from my Inquirer colleague Linda Lloyd here.
(Photo/Sharon Gekoski-Kimmel/Inquirer)