The Gap goes cageless. Gap Inc. - parent company of the Gap, Banana Republic and Old Navy - has joined the list of leading California companies—like Google, Yahoo! and Bon Appétit Management Company—in switching to cage-free eggs for its corporate cafeterias. The decision came after the San Francisco-based company learned that factory farms confine most egg-laying hens in the U.S. in tiny battery cages where each hen has less space than a standard sheet of paper on which to live for more than a year before she's slaughtered. California voters last year passed the Prevention of Farm Animal Cruelty Act outlawing the confinement of hens in battery cages statewide (with a phase-out). National chains Burger King, Wendy's, Quiznos and Denny's have also started using cage-free eggs.
Dog my ride - Time was when cowboys tossed old Ranger in the back of the pick up and took off down dusty roads. Today - not only is that kind of riding illegal in most places - but many pet owners are thinking about car safety for their pets and there are all kinds of nifty features available including ramps, climate control and confinement systems. Now pet safety and automotive experts teamed up to come up with the Top 10 pet vehicles. Here's the list.
Crime and Punishment - It's been six weeks since a Northeast Philadelphia family's house was broken into and their beloved parrot Tex swiped, along with computers and jewelry and other items. Jackie and Barry Miller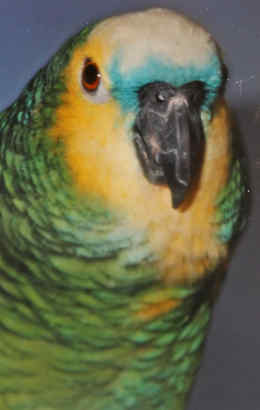 returned home from vacation July 7 to find their home ransacked and Tex - a 24-year old bluefront Amazon parrot gone. The Millers desperately want their family member to come home safely. My colleague Gloria Campisi of the Daily News has the story here.
A central Pennsylvania woman has been charged with fatally stabbing her live-in boyfriend of five years during a dispute that reportedly began as an argument over her feeding the dog before serving him dinner. Pamela Poorman, 55, is charged with killing 51-year-old Larry Coletti on Thursday night in Annville Township. Police say the couple had come home with takeout food and began arguing, then physically fighting. Poorman told police she picked up a knife to scare Coletti and then stabbed him. She later said she was being beaten and "had to stop it." Poorman was taken to Lebanon County Prison without bail.
Keeping horses out of slaughter houses -The Humane Society of the United States has released a national list of humane resources for horse owners making end-of-life arrangements for their equine companions. The list includes state-by-state information on low-cost euthanasia programs, equine crematories, horse cemeteries, rendering facilities and landfills. State agriculture and veterinary contacts and state regulations are also included. A recent survey of equine veterinarians and carcass disposal service providers indicated it costs about $300 for humane euthanasia and carcass disposal. In most parts of the country, this cost is equal to or less than the cost of one month's care. With proper care, horses can live well into their 20s and 30s. The latest available data shows there are more than 9 million horses in the United States, making this resource a valuable tool for the millions of Americans involved with horses.