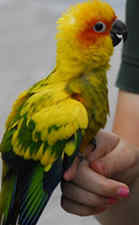 A young parrot who went AWOL from the Philadelphia Zoo last week is now back with his flock. After a four-day flying spree that included a tour of Fairmont Park and a detour to Chester County, the sun conure is home safe at Bird Lake thanks to the help of a Phoenixville family. My colleague Tom Infield has the story.
The Pennsylvania state House approved a bill to increase penalties for wildlife poaching. The vote was 196 to 3. The bill toughens penalties for a range of wildlife crimes including killing endangered species and operating commercial poaching operations. It elevates habitual poaching to a felony crime and establishes jail time as a penalty for many wildlife crimes. The bill now goes to the state Senate for approval. Pennsylvania now has among the lightest penalties for poaching in the country. In an occurrence that happens only slightly more often than comet sightings, the Humane Society of the United States and the National Rifle Association were on the same side of the legislation.
Matchmaking is the theme of the first bill introduced by the newest member of the U.S. Senate. Sen. Al Franken (D., MN) wants to make it more affordable for wounded veterans to get service dogs. In an op-ed piece Franken said he was inspired by the story of Iraq War vet Luis Montalvan, who suffers from post-traumatic stress syndrome and says he's been saved by a Golden Retriever named Tuesday. Now he'd like to set up a pilot program that would provide service dogs - which can cost $20,000 to train - for hundreds of veterans.