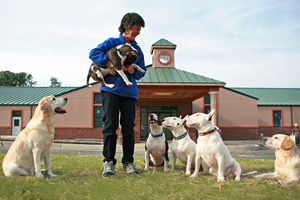 Mary Remer is the founder of What a Good Dog, a dog training and behavioral facility. She is an internationally renowned and widely respected Certified Pet Dog Trainer, breeder, and licensed American Kennel Club judge, and has trained more than 20,000 dogs in her 30-year career.
She is also the founder of What a Good Dog that has been operating for over 25 years. Soon, What A Good Dog will be expanding to an 18,000 square-foot facility that provides a full complement of pet services, including training, boarding, day care, grooming, and rehabilitation—all held to Remer's impeccable standard of tailoring to a dog's body and mind.
Remer, a Bull Terrier aficionado, is the President of the Bull Terrier Club of America, and has been awarded more than a dozen "Best of Breed" wins at the Westminster Kennel Club show, as well as multiple ribbons in the competitive terrier group.
Remer has accomplished a number of notable achievements throughout her career, including training the first Bull Terrier certified for search and rescue missions and cadaver searches, who went on to work in New York City immediately after 9/11. She has also trained, Page, the highest rated Bull Terrier in the history of agility sports.