UPDATE: Michael Vick was indeed sacked in last night's Eagles win over the Washington Redskins - three times in fact - and the homeless and unwanted dogs of the D.C. area will be eating well as a result. The original pledge of five bags of food per tackle made by Main Line Animal Rescue mushroomed into four tons, which will be delivered at noon today. The beneficiary, the Washington Humane Society, says they're doing fine on food, so they will share the bounty with 17 other shelters in the D.C. metropolitan area.
Humane Society spokeswoman Sabrina Fang says the food donation will allow struggling shelters to use their meal money for other vital expenses such as medical care.
Props also go to Braxton's pet store in Wayne and to Rachael Ray's Nutrish pet food which made large donations to the project.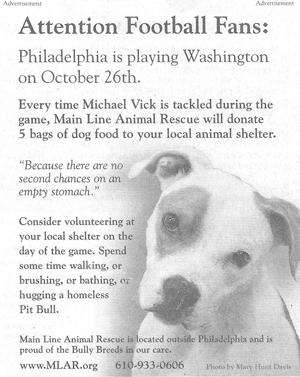 A Philadelphia-area animal rescue group says it plans to make good on its "sacks for Vick" pledge regardless of whether Michael Vick gets tackled, or even plays in tonight's Eagles-Redskins match up.
Last month Main Line Animal Rescue of Chester Springs - which cares for many dog fighting victims and other abused and unwanted pit bulls - took out an ad in the Washington Post offering five bags of dog food to a D.C. shelter for every Vick tackle during the Oct. 26 road game.
The pledge caught the attention of media outlets and animal lovers across the country and Main Line was hit with a flood of donations. On Tuesday, Main Line volunteers will haul four tons of food to D.C. to give to the Washington Humane Society, which says it will share with other area animal rescue organizations.
Of the decision to change the terms of the deal, Main Line founder Bill Smith said, "considering how little Vick's being played, we couldn't wait for him to be tackled. So we thought we'd just go for it."