More than four months after Pennsylvania SPCA agents raided a Lehigh County kennel where 800 animals were living in filth, operator Derbe Eckhart defended himself, saying the state had no serious issues with his operation until the raid.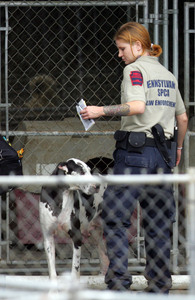 Speaking publicly for the first time since the raid, Eckhart told a hearing officer with the Department of Agriculture that during dozens of inspections prior to the October raid, and as recently as last August, dog wardens had found only minor violations that were corrected.
"They would explain what was wrong, they would reinspect and it was fixed," Eckhart said during an admistrative appeal hearing in Harrisburg on his kennel license revocation.
The Bureau of Dog Law Enforcement revoked Eckhart's license on Oct. 2, one day after the raid.
Eckhart's attorney, Kevin Fitzgerald, said he believed that since no violations were found during an August inspection, the kennel license would not have been revoked had the PSPCA not raided the property.
"They were in business for ten years, inspected two times a year and never once closed down," said Fitzgerald. "This shows the SPCA had an effect on the loss of the license."
Bureau director Susan West testified that the raid did not precipitate the license revocation. When asked how it was that West found nothing wrong when she was among those conducting the August inspection, she said she was "looking at the condition of the dogs."
On the day of the raid, dog warden Kristen Donmoyer testified she was overwhelmed by the stench of ammonia in the kennels and that she saw rusted pipes, broken kennel flooring, jagged cage wires, filthy bedding and dog houses, and many dogs with matting so severe it restricted their ability to defecate - all serious violations of the state dog law.
Donmoyer said conditions had not improved when wardens returned to conduct two subsequent inspections over the next month. In one case she found puppies lying in food bowls and a litter of puppies and their mother covered with diarrhea, lying in a urine and feces-filled box.
Eckhart said he and his six employees were unable to continue their daily cleaning on the day of the raid because they were "in lockdown" in a room while humane agents searched his property.
Donmoyer testified that the dirty kennels and clogged drains reflected more than a day's worth of accumulation.
David McKenzie III, assistant counsel for Department of Agriculture, said the agency had revoked the license based on conditions found in the Oct. 1 inspection and two subsequent inspections and Eckhart's "failure to be rehabilitated" following convictions on animal cruelty charges in 1988 and 1993.
On Wednesday, a Lehigh County district justice ordered Eckhart to stand trial on multiple counts of animal cruelty relating to evidence found during the raid. Agents seized 60 dogs at the time of the raid who were suffering from various injuries and disease.
State hearing officer Jackie Lutz said yesterday she will review the court transcripts and legal briefs within the next few weeks and send the case to Agriculture Secretary Dennis Wolff for a final ruling.