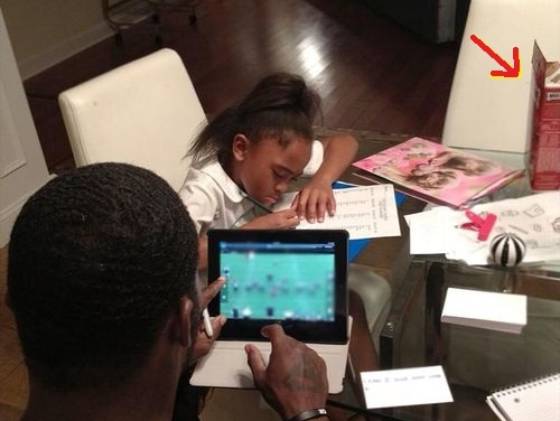 Is there a dog in Michael Vick's home again?
A recent Twitpic says there is.
Eagle-eyed observers in the Twittersphere noted that a box of Milk Bone dog treats was visible in a picture Vick posted of himself and his daughter at the kitchen table on Thursday.
As USA Today reporter Chris Chase put it, "it's hard not to connect the dogs here."
Chase notes picture was quickly deleted and replaced by a similar, biscuit-less one, showing Vick, but the folks at Crossing Broad blog caught the first tweet and saved the picture.
The prospect of the nation's most infamous dog abuser owning a dog again has been the subject of hot debate since Vick's release from prison on charges related to his interstate dog fighting ring.
Under terms of his probation, he could not own a dog for three years. That period expired several months ago.
Vick, who admitted to drowning, electrocuting and beating to death dogs that did not perform in the fighting ring, has said repeatedly he would like to own a dog again.
In 2010 Vick told NBC News and TheGrio.com: "I would love to get another dog in the future. I think it would be a big step for me in the rehabilitation process."
We reported here a year ago that Vick and his family purchased a parrot from a New Jersey exotic bird dealer. We have not had any reports on the bird since.
As far as dogs are concerned, Vick, working with the Humane Society of the United States, has conducted a number of events with inner city young people, including in Philadelphia, urging them to treat animals humanely.
And he has spoken out against dog fighting on the national stage, including lobbying Congress on behalf of animal welfare legislation.
The question is: Can a person who tortured animals in the most despicable ways for years truly be rehabilitated? As they say, time will tell.
(Photo: Crossing Broad via @mikevick)