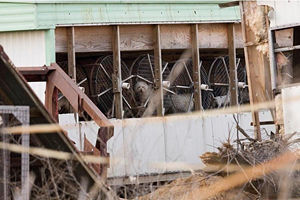 Few licensed kennels in the state have had such a poor record of compliance as Burkholder Farm Kennel in Kutztown, Berks County. T.V. viewers the world over saw images of Burkholder's jury-rigged "exercise wheels" - fan-casings attached to the side of a beat-up trailer on The Oprah Winfrey Show in 2008.
The Department of Agriculture database shows citations issued to owner Aaron Burkholder dating back to 2004, and things only got worse. In 2008 the agency moved to revoke his license. The kennel was inspected 13 times that year with no improvement. Violations included inadequate shelter for dogs housed outdoors (in calf hutches), poor drainage, inadequate light (it was so dark dogs could not be seen), broken wires (in among other places, the wheels) filthy bedding and water and food bowls, feces, hair and dirt-filled pens.
Burkholder, it should be noted, is also listed as a certified organic farmer on New Jersey and Pennsylvania farm market Web sites.
Despite the miserable track record, which includes convictions on multiple counts of dog law violations, Burkholder appealed the department's decision to revoke his license.
In a ruling earlier this week, the Commonwealth Court found for the Department of Agriculture, citing the agency secretary's revocation authority under the new dog law. President Judge Bonnie Brigance Leadbetter wrote:
"The violations of which Burkholder was convicted were not mere technical provisions, but disregard of fundamental health and safety needs of helpless animals."
Jessie Smith, deputy secretary of the Bureau of Dog Law Enforcement said the case "illustrates the complex nature of these cases and how long they take to resolve, particularly when appealed."
"The Burkholder case is not over," said Smith, referring to additional citations issued to Burkholder which are scheduled for a hearing next month. "But we are pleased that the Commonwealth Court has upheld our decision that Mr. Burkholder should no longer be permitted to operate a dog kennel based on his poor kennel conditions."