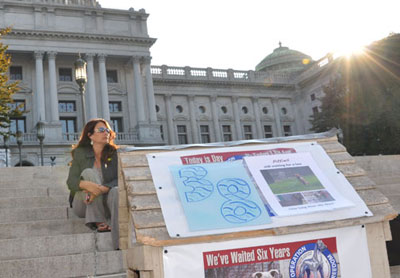 After 52 days chained to a dog house outside the state Capitol an Altoona-based activist returned home without a state law banning 24/7 dog chaining. But Tamira Ci Thayne, founder of Dogs Deserve Better, is vowing to return next year.
"I sought to bring the suffering of chained dogs to the legislators, who live privileged lives in privileged settings, and do not understand the pain that is occurring on a daily basis," said Thayne, who called her effort Operation Fido's Freedom.
Thayne sat at the base of the Capitol steps for ten hours a day, Monday through Friday, enduring days of 100-degree plus heat and torrential rains wearing no protective gear to emphasize what thousands of chained dogs experience every day in Pennsylvania.
She returned home on Oct. 14 when the Senate ended its voting session without acting on the bill, which was bottled up in the Senate Agriculture and Rural Affairs Committee.
It's unclear why committee chairman Michael Brubaker (R., Lancaster) decided not to bring the bill up for a vote. It had bipartisan Senate support of the Pennsylvania Federation of Dog Breeders and many humane organizations. The Pennsylvania Farm Bureau said it was neutral on the bill, citing an exemption for "farm dogs."
Thayne said in meetings with Brubaker's chief of staff Kristen Crawford, she was told there were concerns about prohibiting chaining during the overnight hours for shift workers. Under the bill chaining would be banned (with the exception of brief bathroom breaks) from 10 p.m. to 6 a.m.
Thayne said in her experience people either tether dogs round-the-clock or briefly for bathroom breaks. Few people chain dogs for 8 or 10 while they are at work, particularly at night.
"I'm incredibly disappointed in our legislature, and I apologize to the chained dogs of Pennsylvania for yet another freezing winter they will have to endure, said Thayne. "Chaining is not only inhumane for dogs, but dangerous to children and painful for neighbors, who suffer right along with the dog by being forced to watch the abuse."
Four states have passed time limitations on chaining: California, Texas, Connecticut, and Nevada and hundreds of cities and counties have passed limitations or outright bans on chaining, Thayne said.
Thayne says she plans to resume her fight next year when there will be a new governor in the executive office and new leadership in the Democratic-controlled state House. Polls suggest Republicans, who hold the majority in the Senate, may pick up enough House seats to take control of that chamber.
"We are girding up for even greater strength, and we want to do a Chain Off on the Capitol steps with more people chained to doghouses for one day," said Thayne.
It's not known where the two gubernatorial candidates - Republican Tom Corbett or Democratic Dan Onorato - stand on dog chaining. Philly Dawg is endeavoring to get their positions on the anti-chaining bill and other animal welfare measures that failed to get votes in the legislature this session, including ending the use of gas chambers to euthanize pets in shelters and banning pigeon shoots.