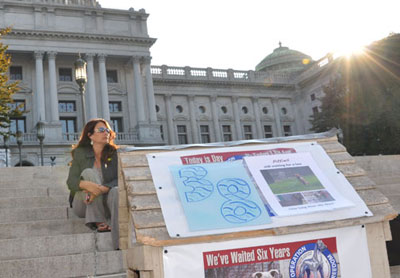 After 52 days chained to a dog house outside the state Capitol an Altoona-based activist returned home without a state law banning 24/7 dog chaining. But Tamira Ci Thayne, founder of Dogs Deserve Better, is vowing to return next year.
"I sought to bring the suffering of chained dogs to the legislators, who live privileged lives in privileged settings, and do not understand the pain that is occurring on a daily basis," said Thayne, who called her effort Operation Fido's Freedom.
Thayne sat at the base of the Capitol steps for ten hours a day, Monday through Friday, enduring days of 100-degree plus heat and torrential rains wearing no protective gear to emphasize what thousands of chained dogs experience every day in Pennsylvania.