Archive: August, 2010
Amy Worden

, Inquirer Staff Writer

One of the most alarming and tragic realities of Hurricane Katrina is that so many people died because they wouldn't leave their pets. Obituary after obituary told similar stories of victims refusing to leave their homes because they had nowhere to go with their beloved animals. Bottom line: No disaster shelters or hotels would take in pets.

Then there was the aftermath of the storm; the thousands of people separated from their pets and more than 50,000 pets abandoned or turned over to animal shelters by overwhelmed hurricane survivors.

Much has changed for the good as far as America's disaster response and pets are concerned in the past five years.
Amy Worden

, Inquirer Staff Writer

A Lancaster County Court judge today upheld the cruelty conviction against Chester County veterianian Tom Stevenson.

Judge Howard Knisely said Stevenson acted "unreasonably" and was "utterly indifferent" when he held a puppy under scalding water and cut off its a piece of its tail without anesthesia, according to the Lancaster Intelligencer Journal.

Stevenson, as operator of Twin Valley Veterinary Clinic in Honeybrook, was the veterinarian of record to most of the major commercial kennels in Lancaster County and responsible for the health of thousands of breeding dogs.
Amy Worden

, Inquirer Staff Writer
Pennsylvania's animal cruelty laws are the focus of a three-part series in the York Dispatch newspaper this week.
The multi-media series, by crime and courts reporter Liz Evans, began yesterday with a look at the evolving nature of companion animals in society, an overview of cruelty laws and the impact of puppy mills and the state's efforts to curb them.
Today's article examines where Pennsylvania stands nationally when it comes to laws protecting animals and prosecuting abusers. Stay tuned Friday for a look at why a number of states and animal welfare organizations are changing the language to reflect the new status of animals in our culture.
Amy Worden

, Inquirer Staff Writer

The Pennsylvania SPCA removed 92 dogs suffering from parasites, matted fur and severe flea infestation from a home in Stroudsburg earlier this month.

On Aug.12, officers executed a search warrant at a home on the 7400 block of Terrace Drive in Stroudsburg and found 92 dogs of various small breeds were removed from the property and brought to PSPCA headquarters for medical evaluation, the organization said in response to a reporter's query.

All the dogs were signed over to the PSPCA and have either been adopted, placed with rescue groups or are in foster care. The PSPCA said it was a hoarding case, not a puppy mill, and did not identify the property owner who is facing cruelty charges.
Amy Worden

, Inquirer Staff Writer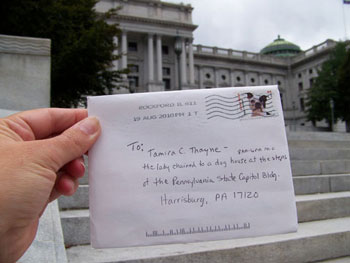 UPDATE: She doesn't have a roof over her head (at least most of the week), but she has a mailbox in the Capitol. Tamira Thayne today received her second letter addressed to the "lady chained to the dog house" while sitting on the Capitol steps chained to a dog house. The note contained the message, "Stay strong." Thayne says the mailman told her there's now a box for her in the statehouse mailroom.
In the middle of the last century, a New York preacher was such a popular figure that letters reached him addressed only to "Father Divine, Harlem U.S.A."
Now a letter has reached an activist in Harrisburg addressed to "the lady chained to the dog house on the steps."
Amy Worden

, Inquirer Staff Writer
It's a perennial problem for seashores along the East coast: the shortage of qualified and dedicated lifeguards.
Italy has no shortage of recruits at its Scuola Italiana Cani Salvataggio or Italian School of Canine Lifeguards. For 20 years the school, located in the port city of Civitavecchia, west of Rome, has been training sea-going canines - mostly Newfoundlands and Labrador Retrievers - to fetch humans in trouble from the waters off Italy.
It takes three years for a canine lifeguard to complete their training. Trainers say the dogs are more adept at jumping into the sea from helicopters and boats. Once in the water they act as "buoys" to help rescuers locate the victim.
Amy Worden

, Inquirer Staff Writer

UPDATE (8/25): The American Kennel Club has severed ties with the dog breeding group that sanctions "bear baying" events following the release of video showing hounds attacking a chained bear. The State newspaper of Columbia, SC reports the AKC sent out a press release Tuesday saying it does not consider 'bear baying' acceptable" and "has never and would never approve this activity." The AKC board barred the group that organized one of the large S.C. events from participating in AKC activities. Another dog registry, the United Kennel Club told the State that it urged people who witnessed cruel activities to call authorities but that it had no control over bear baying.

Read more: http://www.thestate.com/2010/08/24/1430342/group-calls-for-end-to-bear-baying.html#ixzz0xeoE3a5c
The Humane Society of the United States today released undercover video showing dogs attacking a declawed, defanged bear chained to a stake in an effort to end the practice of bear baiting in South Carolina.

"We really view this as a throwback to the days of the Roman Colosseum, when people filled an arena as spectators to watch animals pitted against each other," said Michael Markarian, the Humane Society's chief operating officer.
Amy Worden

, Inquirer Staff Writer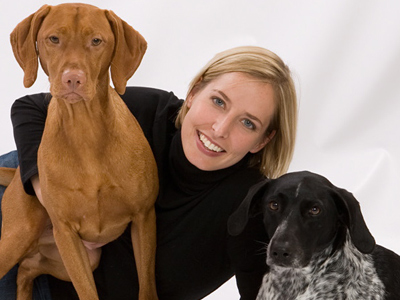 Leigh Siegfried is an Associate member of the International Association of Animal Behavior Consultants and is a Member of the Association of Pet Dog Trainers. She conducts private behavior counseling sessions, group training classes in basic and advanced manners and agility, and a variety of workshops. Opportunity Barks classes are held in Philadelphia and Quakertown, PA. Visit www.opbarks.com for more info.