Archive: July, 2011
Amy Worden, Inquirer Staff Writer
No horses have been killed for commercial meat on U.S. soil since the last slaughterhouse was closed in 2007. At that time a federal appellate court ruled it was illegal for corporations running the plants to pay for inspectors, effectively closing down the industry here.
But the closures haven't stopped efforts to find loopholes in the law (in one case a group proposed setting up a slaughterhouse on an Indian reservation to escape U.S law) nor did it end the slaughter of former pets, Amish plow and buggy horses, thoroughbred racers, rodeo horses and show horses by the thousands.
Far from it.
Amy Worden, Inquirer Staff Writer
Philly Dawg is taking a much-needed break. We're heading out west to take in the scenery of northern Wyoming on horseback.
Our daily pet news feed will resume at the end of the month.
Happy Trails!
Amy Worden, Inquirer Staff Writer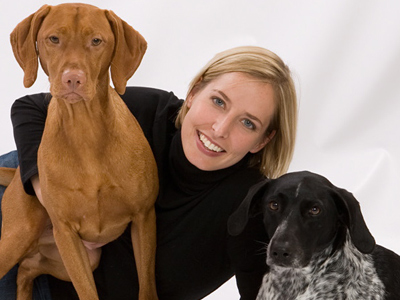 Leigh Siegfried is an Associate member of the International Association of Animal Behavior Consultants and is a Member of the Association of Pet Dog Trainers. She conducts private behavior counseling sessions, group training classes in basic and advanced manners and agility, and a variety of workshops. Opportunity Barks classes are held in Philadelphia and Quakertown, PA. Visit www.opbarks.com for more info.
On a mobile phone? Click HERE to join the chat!
Amy Worden, Inquirer Staff Writer
An animal welfare group has launched a statewide letter drive to convince the Pennsylvania Veterinary Medical Association to drop its opposition to a bill to ban gas chambers in shelters.
United Against Puppy Mills is asking pet owners to lobby their veterinarians to convince their professional organization that gas chambers are unacceptable methods of euthanasia.
The state Senator sponsoring the bill (SB969), Andy Dinniman (D., Chester) told Philly Dawg last month the PVMA is holding it up. A similar bill failed last session, again attributed to the PVMA which has not issued a statement on its position or returned reporter's emails seeking comment.
PVMA -Gas Chambers
Amy Worden, Inquirer Staff Writer
A former Pennsylvania Game Commissioner has admitted buying wolf-hybrid puppies without a permit.
Stephen L. Mohr, of Bainbridge, pleaded guilty Tuesday before a Lancaster County district justice to two summary counts of importing an exotic animal without a permit and paid $2.162 in fines and costs.
Mohr, who served on the Game Commission from 1997 to 2005, said he thought the six puppies he bought from an Ohio breeder were Husky/Malamute mixes.
Amy Worden, Inquirer Staff Writer
The headline in the Lancaster Intelligencer was a stunner: "Dogs Dumped: residents of southern part of county find dozens of animals left along sides of roads."
Two dozen dogs to be exact, Golden Retrievers, designer breeds, puppies. In one case a whole litter of little Golden Retriever puppies, all were abandoned in the past two weeks, the newspaper reported.
These are not roaming packs of wild dogs. They seem to have been clearly dumped there. But by whom? The dog breeds suggest a culprit: backyard breeders or puppy mills. Southern Lancaster County was once a hotbed of dog breeding, led by the infamous (and now shuttered) CC Pets (formerly Puppy Love) one of the largest breeder/retailer of puppies in the state. Owner Joyce Stoltzfus' operation was supplied by scores (more than 80) breeders in the surrounding area. Video of the puppies recued by two women shows older puppies - the kind that have passed their "sell-by" date at pet stores.
Amy Worden, Inquirer Staff Writer
While you and your pet are lounging around the patio enjoying the sun this summer, you may not be aware that potentially deadly hazards may lie a few feet away.
The good vets at the Pet Poison Helpline bring you the following public service announcement about toxic plants and pets.
Amy Worden, Inquirer Staff Writer
An historic agreement has been reached between the egg industry and humane groups which have lobbied for decades for improved conditions for laying hens.
In what Farm Sanctuary called "the greatest advancement for farmed animals in U.S. history," the United Egg Producers (UEP) has agreed to support national legislation to improve the welfare of millions of laying hens across the nation.
Specifically the legislation would end battery cages - tiny containers that immobilize hens - and requires environmental enrichments such as perches, nesting boxes and scratching areas. It also would prohibit forced molting through starvation - a cruel but common technique used to trick a hen's body into a new laying cycle.