Archive: June, 2010
Amy Worden

, Inquirer Staff Writer
Looking for a good summer cyber story? I recommend pointing your mouse toward ohmidog where blogger John Woestendiek and his faithful companion, Ace, have taken off on a meandering journey across America.
Unemployed and suffering from wanderlust, Woestendiek - a former newspaper reporter with a Pulitzer under his belt - packed up his belongings and departed his Baltimore house a few months ago to travel west with his co-pilot.
Amy Worden

, Inquirer Staff Writer

Efforts to halt organized pigeon shooting in Pennsylvania got a major boost last year when TV icon Bob Barker decided it was a cause worth ponying up $1 million for.

Since then the group that received the money, Illinois-based Showing Animal Respect and Kindness (SHARK), has stepped up their documentation and advocacy work on behalf of thousands of pigeons slaughtered each year in the shoots.

More than a decade after animal activists shut down the infamous Hegins pigeon shoot, efforts to rally support among lawmakers for legislation to ban pigeon shooting in Pennsylvania have not succeeded in the statehouse.
Amy Worden

, Inquirer Staff Writer
Photo: Lancaster Intelligencer Journal
A woman whose pet finch was seized by the Pennsylvania Game Commission last month took her protest to the agency's Harrisburg headquarters today.
Patti Mattrick told commission board that game wardens verbally abused her, lied to her and threatened her when they removed the finch she had rescued four years earlier, saying she not a licensed wildlife rehabilitator, according to a report in the Lancaster Intelligencer Journal.
Amy Worden

, Inquirer Staff Writer

Sen. Robert Byrd, who died today at 92, is being remembered as a champion of animal welfare during his half-century in the U.S. Congress.

In one of many speeches devoted to animals on the Senate floor, Byrd in 2001 detailed the history of abuse of research animals that led to the passage of the Animal Welfare Act in 1966 and bemoaned the fact that inhumane treatment of pets and livestock continues:

It is because of my love for animals that I find it alarming to learn that inhumane treatment of pets, and livestock, is still widespread and becoming more barbaric...And while we have made progress, we cannot become apathetic to acts of cruelty, especially those aimed at our faithful and beloved pets. Respect for life, and the humane treatment of all creatures is something that must never be lost.
Amy Worden

, Inquirer Staff Writer

Sorry folks, Philly Dawg took a quick vacation to the Green Mountains of Vermont. She's back now to steamy central Pennsylvania with the following news updates:
It was pushing 90 degrees in the shade today in Lancaster County, do you wonder how the dogs in Pennsylvania kennels - many living in hot barns or outdoor hutches - are feeling? So do we. With the two-year anniversary of the new Pennsylvania Dog Law coming in Oct., the regulations proposed by the Canine Health Board governing temperature and ventilation in commercial kennels have yet to be finalized as they are still undergoing review by the Department of Agriculture. The regulations, drafted by a panel of veterinarians, set standards for how to keep kennels properly ventilated and maintain temperatures regulated during periods of extreme heat and cold. They also will cover ammonia levels and lighting in kennels. The regulations - when they are finalized by the Independent Regulatory Review Commission - will apply only to commercial kennels of which there are a dwindling number, which last stood at 111, compared with over 300 before the commercial kennel components of the law expanding cage size banning most wire flooring and requiring exercise and veterinary care. But today 81 of the 111 kennels have received waivers of up to three years to comply with the law. In addition, the vast majority of licensed kennels - more than 2,000 - do not fall under the commercial kennel laws governing temperature and ventilation.
Back from the brink... big news for the bald eagles of PA. The Pennsylvania Game Commission reports that so far this year, 192 bald eagle nests have been recorded in 50 counties – including all five counties southeast. As recently as 1983, only three Crawford County nests remained in the state, the result of poisoning from the now-banned pesticide, DDT. The 192 bald eagle nests recorded this spring - up from 170 last year - include eight that were built, but where pairs did not lay eggs. Counties supporting the largest numbers of known nesting pairs are: Crawford, 22; Lancaster, 16; Pike, 16; Mercer, 11; and York 11. Residents aware of a bald eagle nest – they are among the largest nests of all birds – in their area should consider reporting it to the Pennsylvania Game Commission. The easiest way to contact the agency and Doug Gross is through: pgccomments@state.pa.us. Use the words "Eagle Nest Information" in the subject field.
Amy Worden

, Inquirer Staff Writer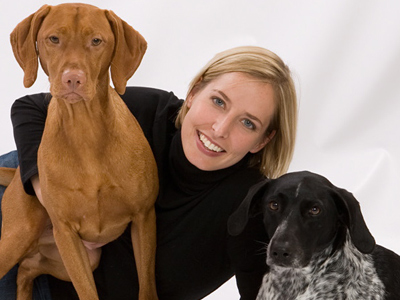 Leigh Siegfried is an Associate member of the International Association of Animal Behavior Consultants and is a Member of the Association of Pet Dog Trainers. She conducts private behavior counseling sessions, group training classes in basic and advanced manners and agility, and a variety of workshops. Opportunity Barks classes are held in Philadelphia and Quakertown, PA. Visit www.opbarks.com for more info.
Amy Worden

, Inquirer Staff Writer

In addition to being the state Capital, Harrisburg also is the trucking capital of the region. With a number of major interstates converging here, trucking and warehouse companies have paved over thousands of acres to park their trucks and store their goods.

A pet food pantry, which has helped feed countless numbers of rescued animals throughout the region has for 20 years been the beneficiary of the warehouse largesse, receiving donations of cat and dog food by the pallet load.

But times are tough in the warehouse business like elsewhere, and more operators choosing to sell the food at salavage rather than donate it, says Carla Haynes who runs the Animal Rescue Food Bank with her husband, Barry, in Wellsville, York County.
Amy Worden

, Inquirer Staff Writer
The ASPCA has launched the nation's first dog DNA database to help prosecute dog fighting cases.
The system is similar to the FBI's human DNA database, a computerized archive that stores profiles of criminal offenders and crime scene evidence. Canine CODIS, as it is known, contains individual DNA profiles of dogs seized during dog fighting investigations and from samples collected at suspected dog fighting venues.
"Dog fighting is a multi-million dollar criminal enterprise that contributes to the cruel treatment and deaths of thousands of dogs nationwide every year," says Tim Rickey, the ASPCA's Senior Director of Field Investigations and Response. "This database is a vital component in the fight against animal cruelty and will allow us to strengthen cases against animal abusers and seek justice for their victims."