Archive: February, 2011
Amy Worden, Inquirer Staff Writer
Barn fires have claimed the lives of more than 18,000 animals in Pennsylvania in the past ten days.
Yes. 18,000 animals.
On Wednesday night 40 cows perished in a dairy barn in Bradford County in the north central part of the state. Another 50 who escaped had to be euthanized because smoke inhalation. More details here.
Amy Worden, Inquirer Staff Writer
UPDATE - The House Agriculture and Rural Affairs Committee is not holding a hearing on the resolution; it is holding a meeting to vote on the resolution. Five of the six sponsors of the resolution supported HB 2525 (the dog law) in 2008. Only Stern voted no on final passage of the bill.
When it was signed by Gov. Rendell in Oct. 2008, the new Pennsylvania dog law was praised nationally for establishing the highest standards of humane care for commercial breeding kennels in the nation.
Now a group of Republican House lawmakers led byGordon Denlinger of Lancaster Co. and joined by Jim Cox of Berks Co. Jerry Stern of Blair Co, Mark Keller of Perry Co. Brad Roae of Crawford Co. and Bryan Cutler of Lancaster Co.) and backed by the American Kennel Club wants to gut the law.
Amy Worden, Inquirer Staff Writer
We here at Philly Dawg are partial to Belgian draft horses, so it came as no surprise that when the milk truck got stuck in snow somewhere in central Pennsylvania, it would be a team of Belgians that rescued it.
Amy Worden, Inquirer Staff Writer
Who knows how many dogs suffered for how many years living chained to plywood boxes in a junkyard near Gettysburg before humane officers removed 14 of them last week.
Why did it take so long? Easy. It's legal to chain your dog up round-the-clock, through snow storms and heat waves in Pennsylvania as long as he has a roof over his head - which could be a rotten piece of plywood, a barrel, or a beat up plastic travel crate.
Amy Worden, Inquirer Staff Writer
Sure, everyone may have a "cam" these days. There are ghostcam, dinercams and beercams, but there is only one falconcam.
High atop the aptly-named Rachel Carson Department of Environmental Protection agency headquarters in Harrisburg, is located a most unremarkable ledge where the most remarkable activity takes place every year: a pair of breeding peregrine falcons (driven to near extinction by the toxic pesticide DDT - the chemical Pennsylvania's Rachel Carson first alerted the world to in her environmental masterpiece "Silent Spring") has successfully produced offspring for the past 12 years.
Amy Worden, Inquirer Staff Writer
Lancaster County is home to the largest concentration of commercial dog breeding kennels in the state.
Now an attorney whose firm has specialized in defending them - and other individuals charged with animal cruelty - is on the fast-track to becoming a county judge.
Leonard Brown, a partner in the firm of Clymer, Musser, Brown & Conrad, won the endorsement of the Lancaster County Republican Party on Tuesday. There is no announced Democratic candidate, so Brown could be unopposed in November, according to the Lancaster Intelligencer Journal.
Amy Worden, Inquirer Staff Writer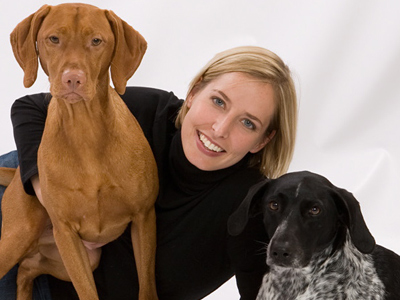 Leigh Siegfried is an Associate member of the International Association of Animal Behavior Consultants and is a Member of the Association of Pet Dog Trainers. She conducts private behavior counseling sessions, group training classes in basic and advanced manners and agility, and a variety of workshops. Opportunity Barks classes are held in Philadelphia and Quakertown, PA. Visit www.opbarks.com for more info.
On a mobile phone? Click HERE to join the chat!
Amy Worden, Inquirer Staff Writer
Two days. 24 hours.
That's how long it took New York Times photographer (and dog lover) Fred Conrad to shoot 179 breeds of dogs - all of them champions competing at the Westminster Dog Show at Madison Square Garden.
See Conrad's fabulous portraits (plus some doggie audio, and wonderful behind the scenes video) here.