Archive: October, 2011
Amy Worden

, Inquirer Staff Writer

We have a rescue crisis in the region, really the entire Eastern seaboard.

Yes, there are too many unwanted cats and dogs and not enough loving homes. But that's not the crisis I'm talking about.

The crisis surrounds the growing number of individuals and groups seeking to abuse and profit from the plight of homeless animals in the South.
Amy Worden

, Inquirer Staff Writer

UPDATE: First, the Rich and Sally Meyers Animal Shelter of Adams County did receive $16,000 in funding from Adams County in 2011, $5,000 increase over 2010, according to the county budget. However only 8 percent of the shelter's total annual budget of $500,000 came from the county and local municipalities.

Second, to clarify the procedure involved with the 48-hour hold rule, the rule reads:

State dog warden, employee of the department or animal control officer shall cause any unlicensed dog to be seized, detained, kept and fed for a period of 48 hours at any licensed kennel approved by the secretary for those purposes, except any dog seriously ill or injured or forfeited with the owner's permission.
Amy Worden

, Inquirer Staff Writer
When I got a tip that Michael Vick and his family had joined the ranks of exotic bird owners I had to follow it. How could I not? Who could forget the outcry from animal lovers when the Eagles signed the nation's most notorious animal abuser two years ago.
After the story about the Vick's purchase of a Caique (a species of parrot shown above) ran in yesterday's paper I braced for full-frontal feedback from Vick lovers and Vick haters. But, surprisingly the response was fairly muted. A few readers thought the Inquirer was wasting space. A few thanked me for reminding readers of the extent of Vick's cruelty. A few told me Vick should never own another animal again. (Remember, Vick has said he'd like to own a dog again one day. Under terms of his probation he cannot own a canine until May 2012.)
Amy Worden

, Inquirer Staff Writer

Is there a serial cat killer or killers on the loose in western Chester County?

As my colleague Kathleen Brady Shea reports in today's Inquirer, three disturbing incidents involving cat deaths within the last six weeks have compelled the Chester County SPCA to issue a warning: Keep your felines inside.

CCSPCA spokesman Rich Britton said a trio of "very troubling, heinous" deaths, especially so close to Halloween, had prompted the directive; however, he said the agency always advocates keeping cats inside so they will live significantly healthier, longer lives.
Amy Worden

, Inquirer Staff Writer

Note to Philly raccoons: turn on the GPS and high tail it to1600 Pennsylvania Ave., Washington D.C. It may mean the difference between life and death.

Seems Philadelphia's raccoon epidemic is forcing some drastic action, including the passage of an emergency city ordinance and threats of shoot-to-kill orders.

President Obama took a different approach in 2009 when the masked critters took up residence in his house: the National Park Service was brought in to humanely trap and move them "to an undisclosed location." Upon the capture of the first raccoon on Feb. 25, 2009, the press office confirmed to the Washington Post that one raccoon had been trapped and was taken back to the wild and released.
Amy Worden

, Inquirer Staff Writer
Philly Dawg is deluged with requests to review pet products. Most of the time we feel woefully under educated to offer opinions on the products being peddled. Take cat or dog food or treats.
So, how did they taste? Well, they gobbled them up. End of review.
Amy Worden

, Inquirer Staff Writer
Animal welfare advocates decried as "toothless" Ohio Gov. John Kasich's response to the shooting deaths of 50 wild animals - including rare Bengal tigers - who were freed from their cages by their owner who then committed suicide.
In an emergency order Friday Kasich said state agencies would exert "existing but underutilized powers" to address wildlife abuse issues in a state with a bustling exotic trade and a high number of sometimes fatal attacks on humans by "pet" wild animals - and work more closely with local humane societies which enforce cruelty laws.
Amy Worden

, Inquirer Staff Writer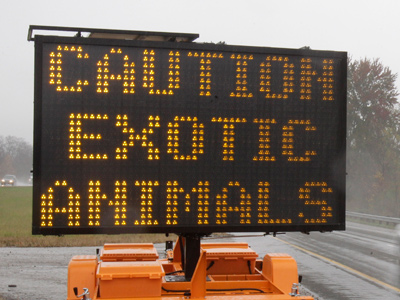 Three years ago two Mennonite brothers in Berks County, Pa. took out their shotguns and opened fire on 80 of their breeding dogs in their cages rather than get flea treatment as ordered by state dog wardens.
The General Assembly was on summer break and passage of a bill to overhaul the state dog law was threatened by a powerful opposition lobby from breeders, sportsmen and the Pennsylvania Veterinary Medical Association.