Amy Worden

, Inquirer Staff Writer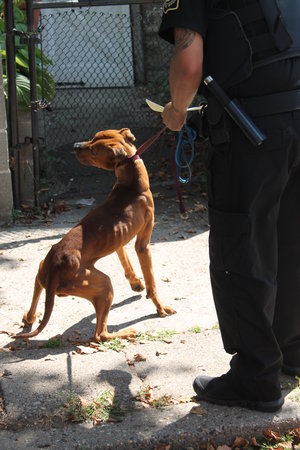 A Northwest Philadelphia man has been charged with animal cruelty after humane police officers found three starving dogs at his house.
Anthony Wall, 23, was charged with two counts of animal cruelty for unsanitary confinement and failure to provide veterinary care for the three pit bulls, the Pennsylvania SPCA said.
The dogs were removed Wall's home in the 7000 block of Sommers Rd. in the West Oak Lane section on Wednesday.They were surrendered by Wall and brought to the PSPCA's shelter for veterinary care.
Leigh Siegfried is an Associate member of the International Association of Animal Behavior Consultants and is a Member of the Association of Pet Dog Trainers. She conducts private behavior counseling sessions, group training classes in basic and advanced manners and agility, and a variety of workshops.
Opportunity Barks classes are held in Philadelphia and Quakertown, PA. Visit www.opbarks.com for more info.
Amy Worden

, Inquirer Staff Writer

We've seen GoPro wearing adventurers scale the highest heights and the depths of the oceans but now a chance to see the world from your dog's point of view.

The new GoPro Fetch - its first video camera for dogs - is a camera and harness combination that allows pet owners to see the world through their pup's eyes.

It features two cameras, one mounted on the dog's back for an over-the-head view and another on the chest for capturing close ups of all the action. The camera is water friendly and the harness is easy to clean. Sorry Yorkie folks, the GoPro only fits dogs 15 pounds and up.
Amy Worden

, Inquirer Staff Writer

Is your dog sufffering from the muddy summer blues? Does his coat need a little back-to-school boost?

Pick up the leash and trot on over to the Hotel Monaco in Old City after work tomorrow for a quick primp-me-up to celebrate National Dog Day..

Kimpton's "Dog Days of Summer" event features a pop-up doggie spa. Hotel staff will roll out the hoses and towerls for for a complimentary dog wash for all furry friends.
Amy Worden

, Inquirer Staff Writer
Consider the statistics: Last year Philadelphia's primary city shelter took in 30,000 animals. Of those 19,000 were cats. Roughly 10,000 animals were euthanized, more than half of them cats.
That's 500 cats killed every month.
Amy Worden

, Inquirer Staff Writer
In the fall of 2007 ASPCA president Ed Sayres stood at the podium at the posh Rainbow Room at Rockefeller Center and presented the group's lifetime achievement award to Bill Smith, founder of Main Line Animal Rescue in Chester County, for his work rehabilitating dogs who suffered years of abuse in Pennsylvania puppy mills
This week Sayres was tapped to lead the Washington, D.C.-based group that represents commercial dog breeders.

Amy Worden

, Inquirer Staff Writer
Earlier this week we learned from the Department of Agriculture that there were no plans to convene a meeting of the governor's Dog Law Advisory Board this fall.
There have been few attention-grabbing headlines involving animals in recent months and attendance at the spring meeting may have been the lowest in almost a decade.
But since Gov. Rendell fired the board in 2006 - a time when one of the state's most notorious puppy mill operators held a seat on it - and proclaimed the panel "ineffective" there have been at least two meetings a year, sometimes more.
Amy Worden

, Inquirer Staff Writer

What a hilarious world it would be.

(Courtesy BuzzFeed)