Amy Worden, Inquirer Staff Writer
Leigh Siegfried is an Associate member of the International Association of Animal Behavior Consultants and is a Member of the Association of Pet Dog Trainers. She conducts private behavior counseling sessions, group training classes in basic and advanced manners and agility, and a variety of workshops. Opportunity Barks classes are held in Philadelphia and Quakertown, PA. Visit www.opbarks.com for more info.
Amy Worden, Inquirer Staff Writer
Humane police officers with the Pennsylvania SPCA are removing hundreds of cats from a property in North Philadelphia this morning.
Earlier today officers executed a warrant to remove more than 260 felines from "unsanitary confinement" at a property in the 1600 block of Filmore Street.
"This is a sad situation involving a woman who wanted to help animals but got in over her head and couldn't provide the care this number of cats requires," said Jerry Buckley, the PSPCA's chief executive officer. "We're doing everything we can to ensure the well-being of these cats."
Amy Worden, Inquirer Staff Writer
We wrote yesterday about the decision by the Chester County SPCA not to reveal the name of - or charge - the farmer who was found with 24 puppies and adult dogs crammed in a filthy shed.
Amy Worden, Inquirer Staff Writer
Two dozen filthy and terrified dogs were confiscated from a farm in Cochranville on Friday, their coats so badly matted their breeds could not immediately be identified.
All but one of the dogs were removed from a six-by-ten foot shed the floor, like the dogs inside, was covered with waste, said the Chester County SPCA, which handled the case.

"I could smell the odor before going into the shed. I saw at least twenty dogs through the window," said Craig Baxter, special police officer for the CCSPCA. "The floor of the shed was covered in sawdust, wood chips, urine, and feces."
Amy Worden, Inquirer Staff Writer
The Philadelphia Water Department is looking for a few good spokesdogs to spread the gospel of poop and scoop.
Juniata and Lower Moyamensing resident dogs have the chance to win celebrity status and their owners $200 in prizes in this year's contest.
The deadline for entries is May 15.
Amy Worden, Inquirer Staff Writer
With lightning speed, the Pennsylvania state House unanimously passed legislation today to increase penalties for harming a police K-9 officer in the line of duty..
The bill would establish a felony offense for killing a law enforcement K-9 like Rocco, the 8-year-old German Shepherd stabbed in the line of duty in Pittsburgh in January..
Rocco was attacked while protecting officers trying to apprehend a suspect. He later died of his injuries. Hundreds of people turned out for his funeral.
Amy Worden, Inquirer Staff Writer
Planet Dog is one of those how-can-you-not-like-them companies.
The Maine-based pet product firm makes quality dog toys, often using recyclable materials - like old sails - and they give away a lot of dough ($1 million and counting) to good pet rescue causes.
So when they asked us to review a few of their Orbee-Tuff toys we pounced on that.
Amy Worden, Inquirer Staff Writer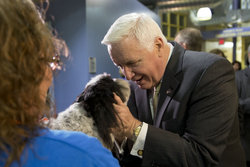 It takes a tough gov to get goo-goo eyes over a little dog.
Ok so it wasn't a gubernatorial campaign stop, but Gov. Corbett paused for some cute photo ops today with a crew of homeless dogs at a shelter in Pittsburgh.
It was all for a good cause: dog licensing.