Amy Worden, Inquirer Staff Writer
Meet Honey and Kwanzaa, best buds at the Darling Downs Zoo in Queensland, Australia. The two were introduced after Kwanzaa's mother stopped producing milk.
Kwanzaa is a white lion cub born in November 2012 who has been hand raised by zoo staff.
We notice he is just the latest orphan big cat to get his own canine babysitter, once again dispelling those "fighting like cats and dogs" myths.
Amy Worden, Inquirer Staff Writer
This morning the nation's leading animal welfare groups, along with members of Congress, including Pennsylvania's Pat Meehan, gather on Capitol Hill to announce introduction of a bill to end horse slaughter in the U.S.
The press conference this morning comes amid a widening horse meat scandal in Europe and as the U.S. Department of Agriculture announced it is processing an application for a new horse slaughter facility in New Mexico.
The last horse slaughter plant in the U.S. closed in Illinois in 2007. Roughly 160,000 American horses were shipped to plants in Canada and Mexico last year to be butchered to satisfy diners' demand in France and Japan.
Amy Worden, Inquirer Staff Writer
When authorities arrived at the Monmouth County New Jersey house of a former animal control officer on Sunday they found more than 200 animals living in squalor and the carcasses of at least another 30 more strewn about the property.
More than 100 animals, including dogs, cats, chickens, rabbits and a domesticated raccoon, were seized from the home of Mercedes Lopez, 56, of Howell.
Amy Worden, Inquirer Staff Writer
Once upon a time he was the world's most notorious dog abuser. Now Michael Vick is just another doggie dad in puppy training classes at PetSmart.
Amy Worden, Inquirer Staff Writer
Anyone who has seen the classic film "Breakfast at Tiffany's" starring Audrey Hepburn will remember the climactic scene that turns on a cat named Cat.
In a fit of pique, a distraught Holly Golightly tosses Cat by the curb in the pouring rain.

Amy Worden, Inquirer Staff Writer
UPDATE: If you missed Sec. Greig testifying before the House this morning, you can watch him testify before the Senate at 3 p.m. today. Watch live here. Also, budget hearing testimony is archived on both the PA House GOP and the Senate GOP websites.
When Agriculture Secretary George Greig testifies before House lawmakers during the annual budget hearings at 9:30 a.m. today, he will deliver some bad news:
Dog license sales are down, way down.
Amy Worden, Inquirer Staff Writer
UPDATE: Police have charged Russell Seese of Greentown with two counts of animal cruelty on Tuesday in connection with this case, according to WNEP-TV. No other details were available.

A picture was sent to us of the pitbull that had its mouth taped shut and its legs bound together with duct tape.
Amy Worden, Inquirer Staff Writer
Yesterday's Inquirer featured a front page story I wrote about a central Pennsylvania couple who pleaded guilty in federal court to illegally selling dogs for research.
Floyd and Susan Martin of Shippensburg were among the last of the so-called Class B "random source" dealers licensed by the U.S. Department of Agriculture to collect dogs from any source as long as it was properly documented. They were indicted in 2011 after a two-year-long multi-agency investigation.
The couple was not indicted for animal cruelty but for defrauding the government by making up sources for hundreds of dogs when in fact all the dogs came from two un-indicted co-conspirators, identified by prosecutors in court on Thursday as Park Cox and Daryl Secrest.
Amy Worden, Inquirer Staff Writer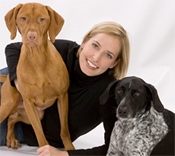 Leigh Siegfried is an Associate member of the International Association of Animal Behavior Consultants and is a Member of the Association of Pet Dog Trainers. She conducts private behavior counseling sessions, group training classes in basic and advanced manners and agility, and a variety of workshops. Opportunity Barks classes are held in Philadelphia and Quakertown, PA. Visit www.opbarks.com for more info.
On a mobile phone? Click HERE to join the chat!
Amy Worden, Inquirer Staff Writer
Animal advocates are celebrating what they say has started off as a banner legislative session for pets and wildlife in Pennsylvania.
The new session is only seven weeks old and already a record number of bills to improve animal welfare are moving in the House and Senate.
We'll start with two related bills that will be introduced this week to address tragedies like the one that befell the two young Bernese Mountain dogs who escaped their fenced-in yard in Chester Springs on Feb. 12.