Archive: April, 2010
Amy Worden, Inquirer Staff Writer
It was bound to happen sooner or later: The world's most notorious dog fighter making an appearance in the puppy mill center of the East.
Eagles quarterback Michael Vick is scheduled to speak at a charity event sponsored for at-risk youths in Lancaster County on April 29.
Children Deserve A Chance founder Jordan Steffy told the Lancaster Intelligencer he was moved by the remorse expressed by Vick's about letting down the people people around him. No mention of letting down the untold number of animals he tortured and killed as part of his dog-fighting ring.
Amy Worden, Inquirer Staff Writer
A serious accident in downtown Philadelphia involving three horse carriages today - that injured as many as five people and five horses - is renewing calls to put the carriages out to pasture.
The newly-formed group Peace Advocacy Network (PAN) - which just this weekend held a demonstration to end what they call a "dangerous and exploitive industry" - said the accident is evidence that carriages have no place on busy city streets.
Brandon Gittleman, the group's vice president and director of its horse-drawn carriage campaign, wants the city to outlaw carriages and is urging Philadelphia City Councilman Frank DiCicco - whose district includes Independence Mall where the carriages operate - to support a ban on the dangerous horse-drawn carriage industry "before another accident occurs."
Amy Worden, Inquirer Staff Writer
Does Gov. Rendell have puppy protests on his mind? Or is he thinking there might be a big crowd in his neighborhood tonight?
The same day animal activists are expected gather near Rendell's Philadelphia house to urge him to support solid flooring, the governor used America's high level of interest in animals to lambast the Tea Party political movement.
Rendell, speaking on NBC's Meet the Press this morning, said the media are giving "the Tea Party too much credit."
Amy Worden, Inquirer Staff Writer
Fearing a state panel will approve a form of wire flooring for commercial kennels, animal welfare activists are taking their displeasure to Gov. Rendell's doorstep tonight (Sunday).
Main Line Animal Rescue organized the vigil in Rendell's East Falls neighborhood to call attention to an upcoming meeting of the Canine Health Board, where it will consider alternatives to solid flooring in the roughly 200 large breeding kennels in Pennsylvania.
When the sweeping dog law revisions were signed into law in Oct. 2008, Rendell and other supporters hailed it as the end of paw-destroying wire flooring - the choice for most puppy mill operators because of the ease in cleaning it. The health consequences of spending years on wire are well documented: digital cysts, splayed feet, the inability to walk on solid surfaces. In the worst cases, puppies caught in the wire lose their legs - and one would imagine - some have lost their lives.
Amy Worden, Inquirer Staff Writer
How did a North Carolina-based transport driver on a rescue mission with 15 mixed-breed dogs taken from high kill shelters to rescues in the northeast get caught in a state sting in a Delaware County McDonald's parking lot?
Here's the story from both sides: Late last Saturday night Anne Marie Wessel was heading to Vermont, dropping off several dogs with two Pennsylvania rescues (at least one of which held a state license) when six law enforcement officers - state dog wardens and Pennsylvania SPCA agents - emerged just as a rescue operator was picking up dogs and paying Wessel for her travel expenses.
The PSPCA seized the dogs and the Bureau of Dog Law Enforcement took their health certificates. They also tried to seize Wessel's personal dog that was along for the ride. The bureau, which staged the sting after receiving a tip, says Wessel was transporting dogs without an out-of-state dealer's license and selling dogs in a public place. Director Sue West said there were dirty conditions inside the van, inadequate cage size and poor ventilation.
Amy Worden, Inquirer Staff Writer
Rescue transports are human chains on wheels that can stretch hundreds or even a thousand miles or more. They whisk dogs from high kill animal shelters, often in the South, to safe havens in the more affluent Northeast. Almost all come through Pennsylvania, by the dozens every weekend.
On Saturday an unidentified transport driver was busted by the Bureau of Dog Law Enforcement in Delaware County and charged with "selling dogs in a public place" - a violation of the state dog law. The 16 dogs were surrendered by the driver and sent to the Pennsylvania SPCA - which had just closed its animal intake facility and was desperately trying to reduce the number of its dogs, crowded into a garage, with a discount adoption event.
Now rescue operators and drivers are asking why they are being targeted by the state for trying to save lives.
Amy Worden, Inquirer Staff Writer
A decision by state dog wardens to leave a Berks County kennel after reporting nine suffering dogs to a humane officer has infuriated animal welfare advocates and prompted questions about the state's ability to work with local law enforcement agencies.
"It ruined the investigation," said Karel Minor, executive director of the Humane Society of Berks County.
A team of dog wardens and a veterinarian were conducting an inspection of a kennel in Berks County on Friday and found nine dogs that were in such bad condition that they called a cruelty agent to get a search warrant. [Dog wardens only have the authority to enforce the state dog law, which applies primarily to the conditions of the kennel, not the animal cruelty statute.]
Amy Worden, Inquirer Staff Writer
UPDATE: According to my colleague Ed Colimore at least 20 dogs were placed during Saturday's adoption event. Read the Inquirer story here.
Faced with an ongoing struggle with canine diseases, the Pennsylvania SPCA is taking the unprecedented step of removing all dogs from its holding facility on Hunting Park before giving it a top-to-bottom cleaning.
That means some 150 dogs need to be relocated. The question is where. Some area rescue groups are on edge at the prospect of having to move so many dogs out quickly and knowing 25 more unwanted dogs are coming in to the shelter every day. By the end of next week that would mean close to 400 dogs in all would need to be placed.
Amy Worden, Inquirer Staff Writer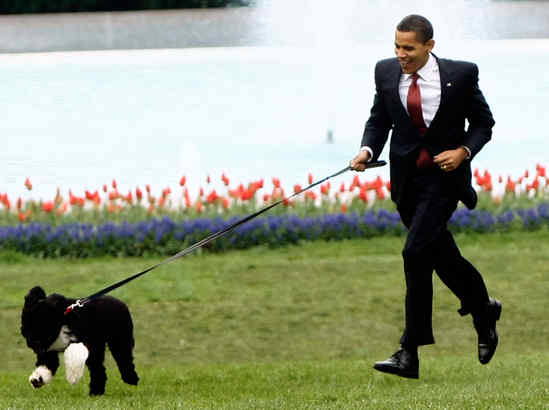 Animal lovers the world over knew the Obama's spent quite a while hunting for just the right presidential pooch and waited until they were settled in the White House to bring Bo home.
Turns out the president may have fared better by entering the White House with a dog in tow.
Amy Worden, Inquirer Staff Writer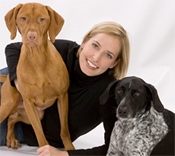 Leigh Siegfried is an Associate member of the International Association of Animal Behavior Consultants and is a Member of the Association of Pet Dog Trainers. She conducts private behavior counseling sessions, group training classes in basic and advanced manners and agility, and a variety of workshops. Opportunity Barks classes are held in Philadelphia and Quakertown, PA. Visit www.opbarks.com for more info.