Amy Worden, Inquirer Staff Writer
Two dozen filthy and terrified dogs were confiscated from a farm in Cochranville on Friday, their coats so badly matted their breeds could not immediately be identified.
All but one of the dogs were removed from a six-by-ten foot shed the floor, like the dogs inside, was covered with waste, said the Chester County SPCA, which handled the case.

"I could smell the odor before going into the shed. I saw at least twenty dogs through the window," said Craig Baxter, special police officer for the CCSPCA. "The floor of the shed was covered in sawdust, wood chips, urine, and feces."
Amy Worden, Inquirer Staff Writer
The Philadelphia Water Department is looking for a few good spokesdogs to spread the gospel of poop and scoop.
Juniata and Lower Moyamensing resident dogs have the chance to win celebrity status and their owners $200 in prizes in this year's contest.
The deadline for entries is May 15.
Amy Worden, Inquirer Staff Writer
With lightning speed, the Pennsylvania state House unanimously passed legislation today to increase penalties for harming a police K-9 officer in the line of duty..
The bill would establish a felony offense for killing a law enforcement K-9 like Rocco, the 8-year-old German Shepherd stabbed in the line of duty in Pittsburgh in January..
Rocco was attacked while protecting officers trying to apprehend a suspect. He later died of his injuries. Hundreds of people turned out for his funeral.
Amy Worden, Inquirer Staff Writer
Planet Dog is one of those how-can-you-not-like-them companies.
The Maine-based pet product firm makes quality dog toys, often using recyclable materials - like old sails - and they give away a lot of dough ($1 million and counting) to good pet rescue causes.
So when they asked us to review a few of their Orbee-Tuff toys we pounced on that.
Amy Worden, Inquirer Staff Writer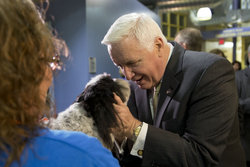 It takes a tough gov to get goo-goo eyes over a little dog.
Ok so it wasn't a gubernatorial campaign stop, but Gov. Corbett paused for some cute photo ops today with a crew of homeless dogs at a shelter in Pittsburgh.
It was all for a good cause: dog licensing.
Amy Worden, Inquirer Staff Writer
Lawmakers will consider a flurry of animal-related bills as they return to the Capitol today after the five-week long break for budget hearings.
Topping the list is "Rocco's Law" - bills designed to stiffen the penalties for anyone who severely injures of kills a police animal.
Amy Worden, Inquirer Staff Writer
The Pennsylvania SPCA wants to know who skinned and mutilated an animal and dumped its bloody remains in a North Philadelphia lot.

Humane law enforcement officers responded to a call in Brewerytown Sunday and found the carcass of an unidentified animal whose skin, paws and ears had been "surgically" removed, PSPCA officials said.

Amy Worden, Inquirer Staff Writer
A Stroudsburg man is being charged with cruelty for shooting his dog in the head.
It's not because he killed her, but because he didn't.

The Pennsylvania SPCA charged Kevin Brennan, 47, with first degree misdemeanor animal cruelty on Thursday for shooting his dog in the head.