Amy Worden, Inquirer Staff Writer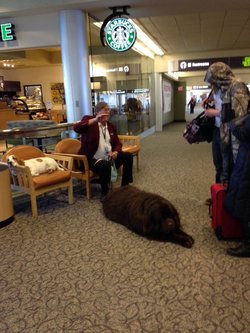 ..
Therapy dogs have been turning up in hospitals and nursing homes, disaster sites and college libraries during exams for some time. But now these petting magnets are becoming a familiar site at another stress-filled environment: airports.

My sister encountered the "AmbassaDogs" in residence at the Albany International Airport a few days ago. She learned from a handler that the airport enlists the services of 19 specially-trained dogs wearing "I'm Here to Help" tags who provide passenger therapy on a daily basis.
Amy Worden, Inquirer Staff Writer
On film and television, there is no shortage of documentaries exploring the horrors of puppy mills in Pennsylvania and beyond.
Now documentary filmmaker Chris Grimes turns his lens on the role money and politics have played in supporting a cruel industry.
In Dog By Dog, which is expected to be released later this year, Grimes explores the link between money and politics at the state and federal level that, in his view, have conspired to allow a the industry not just to survive to thrive.
Amy Worden, Inquirer Staff Writer
A retired federal worker traveled through the snowy streets of Philadelphia in the aftermath of the season's worst storm to give a disabled senior citizen a new chance at life.
Theordore Reif made his way from South Philadelphia to the Pennsylvania SPCA's shelter in North Philadelphia through the deep snow to give a 16-year-old blind Pekingese dog a forever home.
Reif and his wife, Rachael, found out about the dog, named Cocoa, on PSPCA's website and felt for her.
Amy Worden, Inquirer Staff Writer
UPDATE - The Chester County Emergency Operations Center says no decision has been made yet on whether to open either the people shelter or the pet shelter at West Chester University. Stay tuned.
Last week's ice storm was the first big test for the Chester County Animal Response Team, an all-volunteer program to help rescue and provide shelter for pets during natural disasters.
The group set up its first "mega-shelter" at West Chester University, not knowing how many animals it would take in during the days-long power outages.
Amy Worden, Inquirer Staff Writer
A major cock fighting bust in New York over the weekend led to the arrests of 78 people and the discovery of 3,000 birds has a Pennsylvania connection, according to authorities.

State and federal law enforcement officers raided a vacant storefront in Queens on Saturday night where a cock fight was being held, arresting some 70 people. On Sunday officers raided a farm in Plattekill in the Catskills where 3,000 fighting birds were being held in cages, police told the New York Times.
Some news outlets are calling it the largest cock fighting bust in New York history.

Amy Worden, Inquirer Staff Writer
An Ohio-based pet food company has issued a voluntary recall of a limited number of dry dog and cat foods because of a possible salmonella contamination.
Pro-Pet LLC, of St. Marys, OH, issued the recall for food distributed online and in 29 states - including Pennsylvania and New Jersey - after a single field test indicated products manufactured during a two day period, on a single production line may have the potential for Salmonella contamination.
There have been no reports of illness related to this product to date, the company said.
Amy Worden, Inquirer Staff Writer
A stunning admission by the inventor of one of the nation's most popular designer dog breeds

Wally Conron, a dog breeder in Australia, said he wishes he'd never crossed a poodle with a Labrador Retriever to create the Labradoodle.

"I've done a lot of damage," Conron told The Associated Press this week by phone from his home in Australia. "I've created a lot of problems."

"Marvelous thing? My foot," he said. "There are a lot of unhealthy and abandoned dogs out there."
Amy Worden, Inquirer Staff Writer
Russian president Vladimir Putin hardly endeared himself to the equality loving people of the world ahead of the Sochi Olympics with his crack down on gay civil rights last year.
Now the government of Sochi is trying to beautify its city before the opening ceremonies tomorrow, by spray painting brown grass green and exterminating street dogs.