Amy Worden, Inquirer Staff Writer
Stop the presses! (Yes, presses, those old-fashioned machines that crank out words on paper.)
A Philly bookstore cat has won international honors. Amelia, the lovely calico denizen of Spiral Bookcase in Manayunk, was chosen as the best Bookstore Cat in a global contest hosted by Quirk Books.
The store receives a $100 prize, which Quirk Books assumes will be spent on cat treats.
Amy Worden, Inquirer Staff Writer
Seven years ago a Philadelphia gallery hosted a landmark exhibit that cast light on the dark truths of puppy mills through the eyes of artists. The exhibit helped galvanize movement that led to changes in the dog law in Pennsylvania a year later.
The title of the exhibit came from the response given at a 2005 Lancaster County zoning commission meeting by an Amish man who wanted to expand his dog breeding operation.
Amy Worden, Inquirer Staff Writer
Who can forget the tear-jersking star turn of "Cat" in Breakfast at Tiffany's." Dogs may be more accommodating when it comes to taking, ah hem, direction, but you have to admit, when a cat strolls into the scene heads turn.
Felines have been featured in all kinds of films, dramas, thrillers, comedy, and of course, animation.
Quick, how many of the cat cameos in the video below can you identify?
Amy Worden, Inquirer Staff Writer
In her first public action involving illegal puppy sales since taking office last year, Attorney General Kathleen Kane announced a lawsuit against a Mercer County breeder accused of selling sick dogs.
The complaint against Lisa and Paul Mussi and their kennel, Royale Doberman Pinschers, alleges they violated the puppy lemon law for selling the diseased dogs and refusing to take the dogs back or provide reimbursement for vet bills.
The state-licensed kennel, which also operated under the name Luvstruk, voluntarily closed in 2011 following repeated citations for failing to keep the facility in a safe and humane condition for the animals.
Amy Worden, Inquirer Staff Writer
The Pennsylvania SPCA filed animal cruelty charges against a Berks County Irish Setter breeder following the removal of five sick dogs from his kennel earlier this month.
The charges against Paul Ober - a Reading attorney who breeds AKC -registered Irish Setters for field hunting - were based on his failure to provide veterinary care for the elderly dogs, said PSPCA spokeswoman Sarah Eremus.
One dog was in such poor health it had to be euthanized, Eremus said. The four surviving dogs were treated by PSPCA vets and transferred to a breed rescue on May 16, she said.
Amy Worden, Inquirer Staff Writer
The nation's largest pet retailers are ending the sale of dog and cat treats made in China by early 2015.

PetSmart said it will stop selling the treats by March 2015 and Petco will halt the sales by the end of the year. Together the retailers have about 2,600 stores.

Amy Worden, Inquirer Staff Writer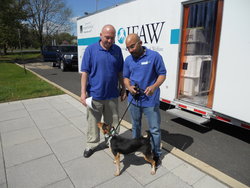 The Women's Humane Society in Bucks County welcomed refugees from the Mississippi tornado disaster recently that destroyed hundreds of houses and left hundreds of animals without homes. The five dogs are available for adoption at its Bensalem shelter.
The Chester County SPCA won the first round in its battle with an East Bradford man who says the shelter illegally removed 23 of his animals. A federal judgehas rejected Larry Woodward's request for a temporary injunction, saying he failed to provide evidence that the SPCA officer and dog warden were acting illegally when they removed seven dogs, a cat, a Macaw, a llama, ducks and chickens from his property in April.
Amy Worden, Inquirer Staff Writer
In case you missed it, my colleague Mari Schaeffer wrote a piece last week about a lawsuit involving the Chester County SPCA and a local resident whose home was raided and animals removed.
WEST CHESTER An East Bradford Township man is suing the Chester County SPCA and the District Attorney's Office, alleging that two shelter staff members falsely represented themselves as authorized humane officers during a raid at his house in which more than 20 of his animals were confiscated.
Larry Woodward of Bridge Road contends that his rights were violated when SPCA officials Christina Cain Pelosi and Craig Baxter, along with two police officers, came to his home April 22 with a search warrant.