Amy Worden, Inquirer Staff Writer
We're not huge fans of playing dress up with dogs and we're sorry the star of this show came from a pet store, but we couldn't resist sharing what this fashion designing New York City couple has done with their photogenic Shiba Inu.
What started as a whim expressed in a parady blog, Menswear Dog, has turned into a business enterprise complete with a book deal. Plus, did you know that people have been dressing up dogs to pose for the camera, well, as long as there have been cameras? Menswear Dog turned us on to this very cool site of vintage dressed up dog photos.
But most of all the couple, David Fung and Yena Kim, and their dog Bodhi are just having a heck of a good time.
Amy Worden, Inquirer Staff Writer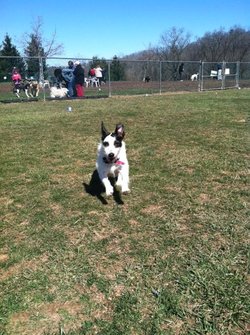 Dog parks are a wonderful concept...in theory.
Who could object to a safe place to run your pup that gives him a chance to explore his inner pack hound?
Olivia and I visit the Upper Allen Township Park in Mechanicsburg almost every weekend. She plays in the size-appropriate small dog area that is fairly well-maintained and the township maintains a nice trail network along the scenic Yellow Breeches Creek for dog walkers.

Amy Worden, Inquirer Staff Writer
They say you can't fight City Hall - or in this case, the state Capitol.
Amy Worden, Inquirer Staff Writer
Time had run out for Rex the German Shepherd.
The dog, rescued from scrap yard, had been in the hands of an animal sanctuary in Britain for eight years and had bitten every caretaker. He was on the short list for euthanasia. Then Rex met his savior, a goose named Geraldine.
Amy Worden, Inquirer Staff Writer
The intrepid protesters who have gathered outside We Love Pets in Media (Providence Rd. at Baltimore Pike) for the past two years are rallying again today to send a message about puppy mills and pet store dog sales.
The protest - timed for the Black Friday weekend rush - is scheduled for noon to 3 p.m. with a goal of encouraging families to adopt a needy animal and not to make a snap decision to bring a living creature into your home for Christmas.that you - and your cute little ball or fur - will regret later.
Amy Worden, Inquirer Staff Writer
This Black Friday, why not adopt till you drop?
Amy Worden, Inquirer Staff Writer
How fitting!
Campbell, the sweet mackerel tabby cat who was cruelly torched by two individuals in the Olney section of Philadelphia earlier this month, is getting his own super hero.

Amy Worden, Inquirer Staff Writer
Leigh Siegfried is an Associate member of the International Association of Animal Behavior Consultants and is a Member of the Association of Pet Dog Trainers. She conducts private behavior counseling sessions, group training classes in basic and advanced manners and agility, and a variety of workshops. Opportunity Barks classes are held in Philadelphia and Quakertown, PA. Visit www.opbarks.com for more info.
On a mobile phone? Click HERE to join the chat!