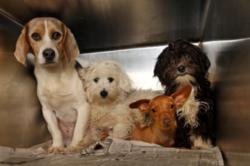 They have as much as eight times the amount of fear as an average dog. They spin in tight circles. They are highly sensitive to being touched.
All common traits exibited by adult breeding dogs who have been removed from puppy mills.
Researchers have now confirmed what anyone who works with dogs rescued from puppy mills knows: that they suffer psychological damage from their years of confinement and that after they leave they exhibit the effects years later.