Amy Worden, Inquirer Staff Writer
I was about ten when we left our new Beagle puppy in the care of a family friend housesitting for us while we went on vacation.
The puppy I had named Muffin slipped between his legs and out the door one day, he said, into the streets of Washington D.C. never to return. Of course, that was long before microchips provided a certain route home if a pet ended up in a shelter or vet's office with a scanning device.
Losing a dog is one of those childhood traumas you never forget. Thinking of it now still stings. Fortunately, a few years later, a Border Collie mix puppy named Mindy entered out lives. She would share our love and family home until her death at 17.
Amy Worden, Inquirer Staff Writer
The owner of Grace Kelly's former East Falls home pleaded no contest Thursday to animal cruelty charges for keeping more than a dozen animals in unsanitary conditions.
Marjorie Bamont, 82, was convicted of 14 counts of animal cruelty in December. She did not appear in court then, but she appeared before the Philadelphia Court of Common Pleas on Thursday, my colleague Bob Moran reports.
She has been ordered to pay $7,000 in restitution to the Pennsylvania SPCA and is prohibited from acquring new animals for 42 months.
Amy Worden, Inquirer Staff Writer
The town of St. Andrews, Scotland may best be known the world over for its famed golf course.
But its most famous resident has nothing to do with the green. In fact, he's orange and he's a "cattie."

Amy Worden, Inquirer Staff Writer
The Washington State mudslide spared little in its path.
In a rural community, where many had livestock in addition to domestic pets the loss of animal life is adding to the pain of the disaster.
People lost pets. Pets lost their people.
Amy Worden, Inquirer Staff Writer
Forget the NCAA Final Four, in a showdown of shelter champions, will it be the kitty or the pup?
Now it's your chance to pick .
Two Philadelphia area shelters will go tail to tail this week for a chance to score $5,000 to help homeless animals.
Meet your finalists in the first-ever "Tournament of Tails:"
Amy Worden, Inquirer Staff Writer
In what in all likelihood is a Pennsylvania first, all four Democrats running in next month's gubernatorial primary have issued statements of support on animal welfare issues.
The statements, solicited by Humane PA, show solid support among the candidates for toughening laws to protect animals,including ending live pigeon shoots, cracking down on puppy mills and combating dog fighting.
Read the statements here:
Amy Worden, Inquirer Staff Writer
We hit the pause button on our stream of animal news to bring you a sweet short film that considers the age-old question: Who rescued who?
The film, "Le Sauvetage," or "The Rescue," takes us to a Parisian street where a pair of stray dogs conspire to unite two lonely souls.
Produced by pet food maker Halo, the film - well, ok, product placement vehicle - pays tribute to good work of animal shelters the world over and the importance of adoption.

The six-minute, subtitled film stars the Olate Dogs of "America's Got Talent' fame. It opens at the Sonoma International Film Festival on April 2 and at Cannes in May.
Amy Worden, Inquirer Staff Writer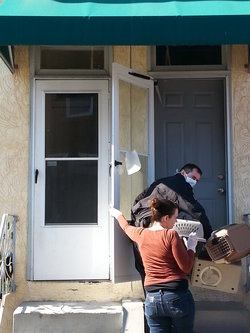 UPDATE - The Pennsylvania SPCA said late Thursday it will charge the owner of the cast rescue with violations of the cruelty code following the seizure of more than 200 cats from her property Wednesday. The PSPCA did not identify the woman in its statement, but the Inquirer reported she is Alaine Jacobson who ran Animals in Crisis, a shelter for stray and feral cats.
The specific charges are still to be determined as the PSPCA continues its investigation, the group said. The revised total number of cats removed from the Frankford home Wednesday was 239. an additional 40 cats were surrendered earlier, but the PSPCA said she has said she will not sign over the rest. Surrendered cats will be made available for adoption but the remaining several hun.