Amy Worden, Inquirer Staff Writer
Think your pet-filled home is a bacteria factory? Well, guess what, it is - and, as Martha Stewart would say - that's a good thing.
A study, published in PLoS ONE, found that homes with dogs had more bacteria, including types that are rarely found in dogless homes.

Amy Worden, Inquirer Staff Writer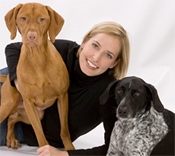 Leigh Siegfried is an Associate member of the International Association of Animal Behavior Consultants and is a Member of the Association of Pet Dog Trainers. She conducts private behavior counseling sessions, group training classes in basic and advanced manners and agility, and a variety of workshops. Opportunity Barks classes are held in Philadelphia and Quakertown, PA. Visit www.opbarks.com for more info.
On a mobile phone? Click HERE to join the chat!
Amy Worden, Inquirer Staff Writer
When it comes to longevity, Pennsylvania dogs and cats are below average.
A new report, produced by Banfield Pet Hospital, looked at the lifespans of 2.5 million of its dog and cat patients across the country and found where a pet lives may determine how long they live..

The biggest factor? Spaying and neutering.
Amy Worden, Inquirer Staff Writer
In many parts of the country there has been a sea change over the past decade in the way local governments view feral cats.
In hundreds of communities catch-and-kill has been replaced with Trap-Neuter-Return (TNR), a humane approach that allows sterilized animals to live out their lives in the place where they were found.

Amy Worden, Inquirer Staff Writer
The ferocious tornado that destroyed much of Moore, OK yesterday and killed at least 24 people (a blessedly lower figure than reported overnight), claimed four-legged victims too.
As one woman stood in front of the rubble that was once her home, she tearfully told a TV news reporter that they lost everything and that their pets were inside.
Orr's Family Farm,a popular horse farm and tourist attraction in the epicenter of the tornado reports losing between 75 and 100 horses.
Amy Worden, Inquirer Staff Writer
Harrisburg falcon fans: Now is the time to tune in to falcon cam. The four baby pergrine falcons - known as eyases - born this spring are growing fast and learning their way around the ledge atop the Rachel Carson building.
Tomorrow you can watch them get their ID bands during a live-streamed event on the falcon cam home page.

Amy Worden, Inquirer Staff Writer
In case you missed it, the Inquirer recently ran a riveting six-part series on a Philadelphia prisons program that matches inmates with, shall we say, behaviorally-challenged dogs. New Leash on Life - like other prison dog training programs throughout Pennsylvania, is a second chance for inmates to turn their lives around and often the last chance for many difficult dogs on death row at Animal Care and Control Team of Philadelphia (ACCT), the city's public shelter.

Amy Worden, Inquirer Staff Writer
It turns out three women weren't the only ones imprisoned in a Cleveland man's house.
Amy Worden, Inquirer Staff Writer
Harrisburg is the first city in Pennsylvania to outlaw the 24/7 chaining of dogs.
The City Council on Tuesday unanimously approved an ordinance to combat cruelty by requiring that dogs be outside no longer than it takes to "perform a task" - otherwise known as a potty break.
Amy Worden, Inquirer Staff Writer
When it comes to on-the-job hazards, Philadelphia letter carriers are among the most likely to suffer dog bites.

According to a new ranking by the U.S. Postal Service, Philadelphia is fifth among the top 14 cities for dog attacks on postal workers, who suffered 34 dog attacks last year.
Los Angeles was the most dangerous city with 69 attacks on postal workers, followed by San Antonio/Seattle, San Francisco and Chicago.