Member Opinion
Article Originally appeared on Huffingtonpost.com 10/2/12
In 2008 there was so much excitement surrounding the Presidential election it was contagious. For many, like myself it would be one of our first opportunities to vote for the United States highest office... President. As a 20-year-old, just started my second semester in college it turned into one of the biggest moments of my life.
There was, not only a black man in the race, but also a woman -- both of whom represented many of the issues I care about. But a lot has changed since that time of staying up late to hand out flyers and giving up my weekends to canvass.

Recently, Gov. Chris Christie vetoed New Jersey's new same-sex marriage legislation. I approve of the veto, but I feel the Governor missed a chance to make history. Gov. Christie could have changed the whole marriage debate by offering legislation that would be equally fair to all of New Jersey's citizens, placate the supporters of same-sex marriage and evangelicals, and offer an original idea that all states could adopt.
First, let me say that I'm not against "Gay Marriage"! If two people love each other then they should be allowed to spend the rest of their lives together in love. The state shouldn't tell anyone who to marry or not marry. But we first must admit there's more to this debate than "marriage-equality." We must admit that there are financial implications, fairness issues, a whole bunch of misinformation and a downright denial of any societal effects of extending the privilege of marriage beyond the traditional.
In the future, same-sex couples, and probably other groups, WILL be granted the privilege of marriage at the federal level. I'm fairly sure about that. It's clearly unfair to deny certain alternative lifestyles the benefits of marriage. Furthermore, let's also acknowledge that other people who choose an alternative lifestyle will come forward to say that they were "born" to have 5 spouses. Others will complain that single citizens are paying far too high a cost for the resources they utilize. So we need to address our antiquated marriage laws today, and I have a plan to do so.

Kiki Bolender is an architect in Philadelphia and a member of the Daily News People's Editorial Board.
OH, COUNCIL. You were doing so well. Back in 2007, you wisely asked voters for permission to rewrite the city's antiquated zoning code. Voters gave it, and you initiated a four-year public process, guided by a diverse and inclusive commission. We were on our way toward having a clear, fair and modern code. You and the Mayor made the appointments, and several of you sat on the Zoning Code Commission.
But now you seem to have lost faith in that effort, and it's such a shame.

These are the election endorsements of People's Board member Sean Monahan. He does not speak for the Board.
Cheri Honkala (Ballot Number 321) is the Sheriff candidate for you if you're at all inspired by Occupy Philly, which reminds us daily of the foreclosure mills that are the big banks. Although the Sheriff has among his/her duties the actual physical eviction of foreclosed and evicted families, Cheri says she will not throw any family into the street. She says the ones who really should be punished are the banksters who have stolen billions in economic wealth out from under us, and who in the process have sunk millions of hard-working families into desperation. While the banksters' debts remain uncollected, Cheri is not going to torture their victims by throwing them into the street. By gumming up the eviction gears, Cheri would force the system to come up with humane ways to help families who, due to no fault of their own, are face to face with disaster.
Kathryn Boockvar (Ballot Number 202) is running for Commonwealth Court judge. Commonwealth Court is vitally important for workers and residents of cities since it hears most cases involving labor rights and the powers of local government. Boockvar has a strong history as a lawyer of working for the rights of the poor and dispossessed, and to expand the franchise, all of which she would be able to advance strongly if elected to the Court. In her early practice, Boockvar directly represented low-income families struggling with unemployment and disability problems while working at two different legal services programs for the poor. She then started a private practice that focused on employment discrimination, unemployment compensation, pension rights, social security disability, and civil rights litigation. Lastly, she worked as staff attorney with the Advancement Project to ensure that voting rights and election administration laws were enforced fairly, effectively, and accurately, so that no eligible voter was wrongly disenfranchised. She is superbly qualified to serve as a judge of Commonwealth Court where she would strongly advance the interests of justice for all.

These are the election endorsements of People's Board member Tom Sexton. He does not speak for the Board.
After his "pull your pants up" speech, Mayor Nutter found a friend in me. It was the best political speech made since 9/11, so I support Mayor Nutter for a second term without a doubt.
For City Council, I'd like to first endorse the idea that Marian Tasco should retire, take her DROP payment, and leave. She's running unopposed, but the whole city should call for her departure – she's old guard, and offers very little. The fact that she could be Council president causes me to vomit a little, the type of vomit that just breaks the barrier of your throat and forces you to taste the nastiness for the rest of the day. I can't have that taste in my mouth for another term.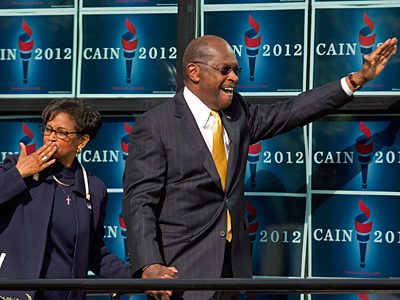 Charles Herndon is a People's Board member from West Oak Lane.
As I watch the Republican primaries, I've paid special attention to the rise of Herman Cain. Cain's story should be about hope and success. As an African-American Republican, he should be speaking about what the "party of Lincoln" can do, will do or has done for today's African-American.
It wouldn't be easy, and I'm sure he's not naive. He has to be aware that speaking out about combating problems in the African-American community would cause him to sink like a stone in the primaries. But that doesn't justify what he's doing instead, which is allowing himself to be used by Tea Party-dominated Republicans as evidence that they're not racist. "See! We like Herman Cain, and he's black!"

Michael Kubacki, a member of the Daily News People's Editorial Board, is a crank from East Falls.
The Daily News People's Editorial Board just weighed in on the issue of school governance. I'm a member of the board, but I have to dissent from its solution, which is to change - well, nothing really. Keep the School Reform Commission and the entire top-down, one-size-fits-all system by which public education is dispensed in this city. Leave it all to the "experts" who have presided over the decline and fall of public education, here and elsewhere, for 50 years now.
The People's Board suggests putting a parent on the SRC. Are all current members childless? Even if they are, what makes parenthood a qualification for administering the public schools? Saddam Hussein was a parent. Even Michael Jackson was a parent, sort of. It's true that parents are powerless and routinely ignored by those who run our schools, but this can hardly be remedied by ensuring that at least one member of the SRC has contributed some DNA to the gene pool.