Join us here at 12:30 p.m. to talk about graffiti with Sandra Shea, Daily News editorial page editor; Conrad Benner, Streets Dept blogger; and Thomas Conway, Philadelphia's deputy managing director.
For all of today's special coverage on graffiti's return, go here.
As I purchased my Daily News this morning I was immediately drawn to the headline "He Beat It" regarding Lt Jonathan Josey being found not guilty of simple assault of Aida Guzman. After turning the page and seeing the "smirk" on Lt. Josey' s face my first thought was "I have seen that look before" As an African American who grew up in North Philadelphia I have seen the "smirk" on the face of many policemen in person or in the news. The fact that it is an African American police officer does not lessen the pit that develops in my stomach when I see that "smirk".
Standing before the House of Representatives, the lanky Illinois President gave an impassioned plea for major infrastructure improvements. These improvements, he said, were an investment in our nation's economy. Investments in roads, and railways, and…canals. See, the speech I'm referring to is not this week's State of the Union (which also touched on these issues), but that of Abraham Lincoln, given over 165 years ago (That would be eight scores and five years, for those counting at home) as he argued before the House for infrastructure investment.
George Matysik Philabundance Deputy Director – Policy and Planning and PEB Board Member
@ 4:46 PM 
Permalink
|
0 comments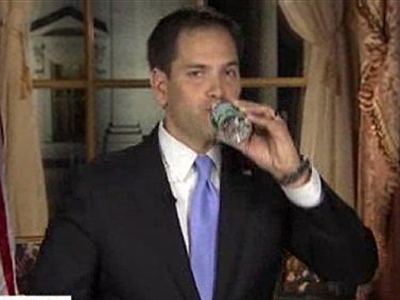 What we saw Tuesday night in the State of the Union Republican response by Senator Marc Rubio (R-FL) is that the Republican Party still does not get it. Never has it been more apparent that the "Party of Lincoln" has a momentous issue that needs to be addressed. I am sure the Republicans felt all they needed to get the Latino voting public to come over to the Republican side would be to have Senator Rubio come out and recite the same lines that condemned Governor Romney to lose in a landslide
I believe Senator Rubio when he says that his parents came to this country in search of a better life. My contention is that he like so many Republicans before him has a "selective memory" when it comes to issues and "entitlements" Senator Rubio stated that his parents both needed and used Social Security yet his party wants to change the system into a voucher program that would take away from seniors that depend on it. Senator Rubio stated that he attained his college education in part because of federal student aid and now wants to limit if not cut all federal student aid. What that sounds like to most people is "I used the system but I do not want you to do the same thing"
The only way the Republicans can stay viable is to become attractive to more minorities who will soon become the majority. Sending out Senator Rubio because he is Latino will not work just as when the many times that Republicans sent out African American conservatives did not work. The fact remains that Republicans must decide to walk away from a perception that they are only for the rich. Especially since they fall all over themselves to tell us that they had humble beginnings and yet made it. My question is why they do forget that the same services they want to do away with helped them "make it" to where they are now?
Somehow in thirty some-odd years living on this planet, I managed to be one of the few people on earth not to read (or at least begin, and promptly set aside) Herman Melville's Moby-Dick, one of the great tomes of American Literature. I was able to right this wrong, when my wife presented me with a copy this Christmas, and I quickly dove in (pun intended).
As I progressed through the pages of blubber, spermaceti, and coffin-shaped buoys through the New Year I couldn't help to draw the comparisons every time I looked up from my book at CSPAN, covering the fiscal cliff and the impending debt limit debate. (SPOILER ALERT!) Partisanship had us steering for white whale of victory over the opposing party, rather than what's best for those aboard the United States.
There is an old story about a Freshman Congressman coming to the Hill, and referring to the other party as "the enemy". A Senior House member pulls him aside, and says "No, he is just a part of the opposition. The Senate is the enemy." However, the reality is that none of our lawmakers should be seen as "the enemy". The true bad guys here are poverty, inequality, and a crumbling infrastructure.
George Matysik Peoples Editorial Member and Philabundance Deputy Director of Policy and Planning
@ 10:22 AM 
Permalink
|
0 comments
As we watched the hearings on the Benghazi attacks we observed Republican Senators each clamoring for a chance to try to "show up" Secretary of State Hillary Clinton we see that aura of hypocrisy has yet reared its ugly head in politics. We see Senator Rand Paul state that he would have "relieved her (Clinton) of her post". Senator Ron Johnson spent most of his 5 minutes asking if Clinton could if she could have ascertained if the attack was because of You Tube video or a terrorist attack. I agree with Secretary Clinton whose agitation at the question was not hidden and stated "We had four dead Americans, Was it because of protest or was it because guys out for a walk who decided to kill some Americans? What difference does it make? The Conservative Mafia (Fox News, Rush Limbaugh etc) were upset at her choice of words as they have stated that they were only trying to get to the "Truth" about what happened. They state it is important that the American people know why four Americans were killed and what the government knew about it. I agree with some of that.
While there are questions that need answers relating to the attack, why stop there? I'm sure those same American people would love answers on how the "intelligence community" got it completely wrong on Iraq having weapons of mass destruction. That faulty or blatantly wrong information has led to 4 plus 3,996 Americans dying. Condi Rice, Colin Powell as well as Vice President Chaney stated that it was "known" that Iraq had weapons of mass destruction. When they along with the world found out that it was not true I do not recall any Republicans or the Conservative Mafia asking for hearings or firings. In fact when the Democrats wanted to start the process of doing that the Republicans stated that it was "playing politics".
I recently spoke with Tyema Sanchez a native of Philadelphia, Tyema has over five years' experience in event planning and 10 years' experience in administration in corporate America and in hospitality. In 2012 she established her own business – GirlTini, based out of Philadelphia. She created this company because she loves sisterhood. She prides herself on providing a platform where females are living, laughing and learning from each other's life experiences. She is a master at using social networking sites to spread the word about issues, programs, events and organizations. She believes by helping others, she is helping herself. I spoke briefly with Tyema and asked about her company and what she hopes to achieve.
What made you decide to become involved in the process of community activeness "I am a humanitarian by nature; it gives me great pride and joy to know I can help or empowering another human being. Also, volunteerism is a great way to teach your children about giving without the intent of receiving"
How do you think that we can get more people especially women involved in their communities ? "I think majority of people truly want to help, organizations just have to give them a genuine platform to volunteer their time"
The fiscal cliff is looming and to date there have been 2 proposals put forth. One by the President and one by House Speaker John Boehner. The American people are hoping an agreement can be reached. Here are some of the issues that have come to the forefront in this political quagmire.
President Obama ran with the promise that if reelected he would make the Bush Tax cuts permanent for the middle class which constitutes 98% of Americans. President Obama stated that the remaining 2% of Americans should pay more in taxes and it was his pledge that he would not allow that 2% to continue to get a tax break. The President's Opponent disagreed with that tact and stated that he would not raise taxes on anyone. There was a choice and the American people decided that they agreed with the President's approach. A recent Quinnipiac poll found that 65% of voters back increasing taxes on Americans making more than $250,000. Yet despite that the Speaker of the House John Boehner believes that we should not raise taxes on anyone. He put forth a plan that would close loopholes yet allow the tax breaks to continue for all.