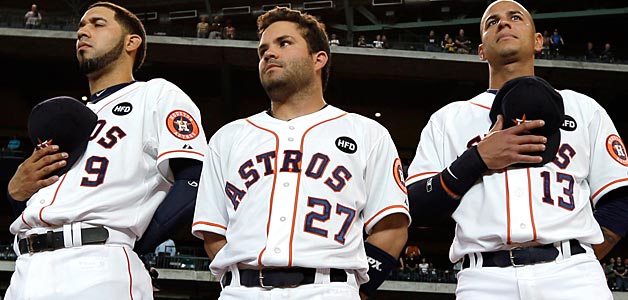 CBS Sports' Scott Miller has some really strong feelings, and some golden 'Curb Your Enthusiasm' jokes left in his idea notebook. His recent character assassination piece indicates both.
"The Dodgers owe their season to this guy. Before Puig, they were the Houston Astros in better uniforms. Yet with each home run and highlight-reel moment, the monster grows.
…
The Dodgers' task is to keep him playing at close to 100 mph while preventing him from driving 100 mph.
Last thing they want to do is break his spirit on the field, or go all Larry David and curb his enthusiasm."
I know, right? What a shamefully personal, meaningless attack. As if there's any reason to take this stance; claiming to be baseball's almighty counselor, setting a code that all others should follow or risk thine judgment.
Besides, the Astros are only slightly worse than the Phillies! Insulting their uniforms seems completely merciless. And yet, the sentiment is everywhere.
For some reason, it is open season on the clothes the Astros wear while they play baseball games. It wasn't enough to criticize the clearly in mid-development Astros themselves, with barely a paragraph between insults anymore, like this guy:
"Carlos Gonzalez smacked his four straight homers against the Astros. Big whoop. Most of the Houston pitchers do not throw nasty sliders, either.
...[Some paragraph about article's actual topic, whatever]...
A lot of those teams probably could take the Astros in a best-of-7 series. Especially the Wakefield Gorillas."
[Studio audience goes wild]
People have discovered that there are more facets to the Astros than their inexperience and lack of talent, and have crafted their criticism to a more aesthetic level.
Just ask ESPN's Uni Watch from a few days ago, which ranked Houston's uniforms 23 out of the 30 MLB teams.
"It's nice to see the star-"H" cap logo again, but here's a weird thing about the new Stros uni set: The lettering on the front of the jersey is the same size as the lettering for the players' names on the back of the jersey. This makes the chest lettering look rinky-dink and the back of the jersey look clunky. Let's hope they address this for next season."
Granted, this is a web site dedicated solely to critiquing sports uniforms. If they weren't writing about how good or bad uniforms are, they would be a failure.
But what is so wrong with the Astros' digs? Their colorful without being garish, invoking the team's history with the throwback 'H' this season, noticeably different between home and away (unlike teams who stick with the white/grey formula), and include the pizzazz of a team that shares its name with a popular cartoon about a boy who lives in the future and wears jet boots.