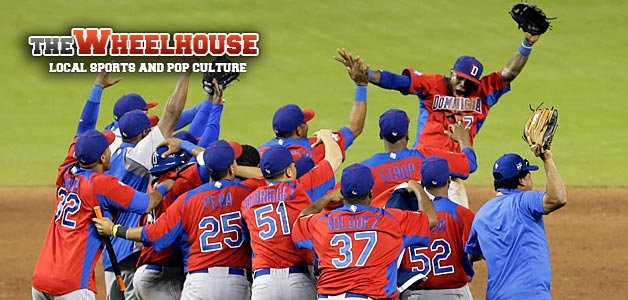 We screwed up. Quite badly. We thought the U.S. had been eliminated from the World Baseball Classic, but the tournament's double-elimination format threw us a proverbial curveball.
We apologize for the mistake, and we thank all of you who rightly called us out for it in the comments below.
The last time we saw the Dominican Republic national team, they were punching a hole in Cole Hamels. Now it seems they've taken aim at a bigger prize than merely the Phillies and our pitchers' feelings: the World Baseball Classic championship.
Last night, the DR beat Jimmy Rollins, David Wright, Ryan Braun, and the U.S. gang. All they had to do was score in the ninth inning off the best closer in Major League Baseball. Which they did, twice, leading to a 3-1 final score.
The United States just couldn't answer and will now play a win-or-go-home game against Puerto Rico tonight. A victory will send the U.S. to San Francisco for the semifinals. A loss, and the American players all get to keep playing baseball for the next six months.
Jose Reyes, Robinson Cano, and the Dominicans have already qualified for the Championship Round.
"There is no weak enemy in baseball, but today was the battle of two titans." - DR manager Tony Pena.

— MLB (@MLB) March 15, 2013
It was less demoralizing than the 15-run lobotomy they performed on the Phillies a few weeks back, but still stings.
Here's hoping David Wright - whose "Captain America" nickname just showed up on Baseball Reference - comes through against Puerto Rico.
BOXER REBELLION
The Kardashian family redefined American life; in that they took intense self-obsession and worthlessness and got people to start calling it "reality TV star." Now, there isn't a magazine cover in a checkout aisle without a gasping Kardashian's face on it. America!
Needless to say, when the Kardashians do something like get a dog, it's big news. When they name that dog after a native Philadelphia boxer who just retired as the oldest man to ever receive a major title, well; here we are, writing about it.
Yes, the Kardashian family now somehow involves Bernard Hopkins, who is their new puppy's namesake. Apparently there is some "humor" in naming a dog that is a boxer after a human who is a boxer and you better believe those brilliant Kardashians made the connection.
Like his human counterpart, the dog will require acute survival instincts to stay on his feet.
ROCKY START
Your house is nice and all, but I doubt that Sylvester Stallone has ever complimented how nice the steps are or how that window sill would be a "great spot for a radio."
That's why you should take a look at this house, where Sly lived as Rocky Balboa in Rocky II. Sure, the housing market isn't what it used to be, or ever was, unless you count the time before there were houses, but you're running out of opportunities to live where Sylvester Stallone has filmed things.
But not much else has changed; jackets with leaping tigers stitched in the back are still in style, "nice steps" are still one of the first things prospective house buyers check for, and Rocky Balboa remains a household name, regardless of where you live (in Philadelphia).
So maybe take a look at the $139,000 property, before "Sylvester Stallone filmed a movie here" stops being something you can brag about.
Too slow.
OPEN WIDE
Cole Hamels recovered nicely this spring from getting shellacked by the team that went on to defeat America.
So impressive has his preseason been in Clearwater that the Phillies have decided it best to end Roy Halladay's 10-year reign as an Opening Day starter and give Hamels the ball. The new #1 starter has the support of Halladay, who said the kid deserved it a few weeks ago.
Having gotten his big contract extension this past summer, Hamels' institution as the Phillies' ace was inevitable, and while the changing of the times has a bittersweet feel to it - with suspicions abound that Halladay is disintegrating - it will be satisfying to see the 29-year-old Hamels take his rightful place.
However, he already has some bad mojo to dodge as Riley Cooper escaped from Eagles quarantine headed straight for Clearwater.
#Eagles @rileycooper_14 said hello to Cole Hamels @ #PhilliesST in Clearwater, FL today & joined the @wipmorningshow twitter.com/Eagles/status/…

— Philadelphia Eagles (@Eagles) March 14, 2013