Bring out the gimp?
ESPN put the "pulp" in "Pulp Fiction" Saturday night when they tweeted an odd and off-putting cartoon last night after Syracuse took down Duke 91-89: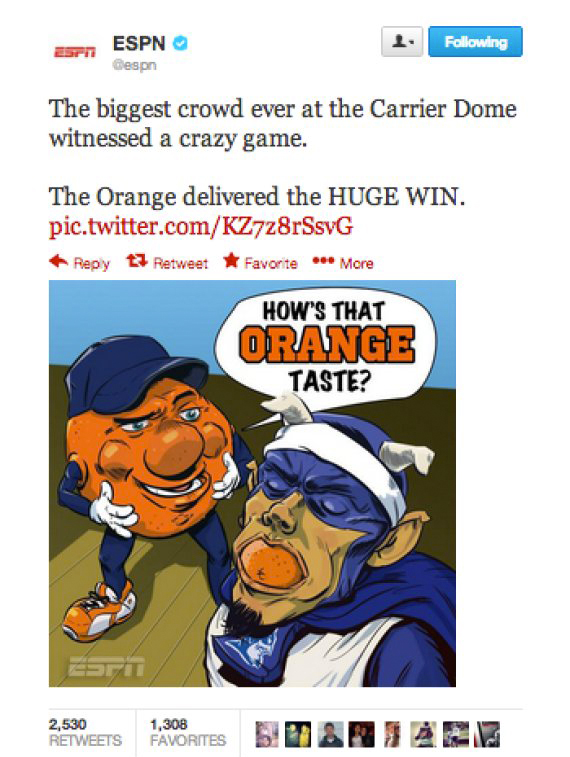 Here's the image in its full glory: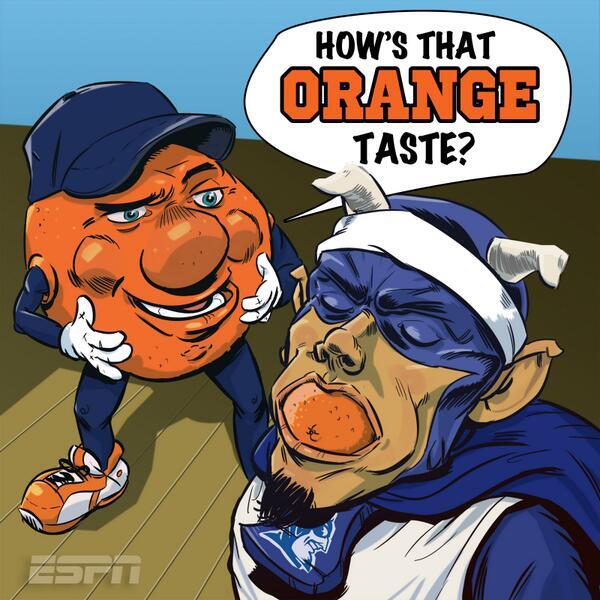 While I applaud the use of cartoons (you can reach me at @RobTornoe, ESPN), featuring a rosy-cheeked Duke Blue Devil gagging on a force-fed orange with a gloating Otto the Orange saying, "How's that Orange taste?" can only be described as weird.
Since the cartoon was pre-drawn prior to the game, I'm left wondering what the cartoon would've been had Duke upset Syracuse. Would it be the Blue Devil fiendishly peeling off Otto's skin, or would Otto be forced into a blender, just about to be juiced by a thirsty Duke mascot?
Regardless, the image was quickly deleted from ESPN's Twitter account, but not before being seens by thousands of it nearly 9 million followers. Here's a sampling of the instant reaction the graphic recieved, topped off by SportsCenter anchor Robert Flores:
@espn when did the Orange mascot become a Batman criminal?

— Robert Flores (@RoFloESPN) February 2, 2014
WHAT WAS GOING TO BE IN THE ORANGE'S MOUTH IF DUKE WON RT @espn The Orange delivered the HUGE WIN. http://t.co/Qy16JzylXX

— Mark Titus (@clubtrillion) February 2, 2014
The safety word is "Krzyzewski" RT @espn: The Orange delivered the HUGE WIN. http://t.co/DOnQUSgL8c

— Philip Michaels (@PhilipMichaels) February 2, 2014
That was your hottest Disney animated short ever, @espn

— Matt Sussman (@suss2hyphens) February 2, 2014
To ESPN's credit, they do understand how popular cartoons can be, and hire a lot of artists to do work for them, especially on social media. Here are a handful that standout:
After 30 great years, David Stern rides off into the sunset. Enjoy the extended vacation, Commish. pic.twitter.com/dI22kcXMc4

— ESPN (@espn) February 1, 2014
On to the Super Bowl! Peyton and the @Broncos are AFC Champions. pic.twitter.com/nNZUPxs8WT

— ESPN (@espn) January 19, 2014
Rock Chalk! Andrew Wiggins, Joel Embiid & the Jayhawks showed Marcus Smart who the Big 12 belongs to. pic.twitter.com/k8ygSu1Anw

— ESPN (@espn) January 18, 2014
Peyton Manning and the @Broncos just knocked the BOLO tie out of this year's NFL Playoffs. pic.twitter.com/LT3redgDOe

— ESPN (@espn) January 13, 2014