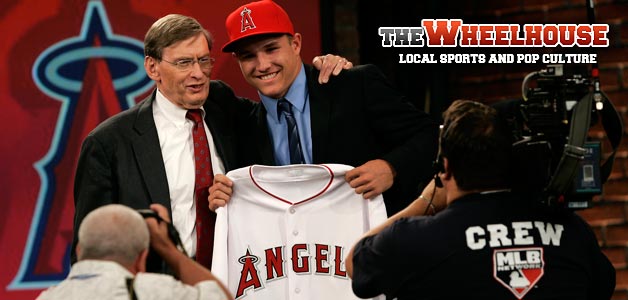 It's time once again to watch delirious young people put on hats.
Yes, the MLB Draft will allow the sport to briefly transform from rampant speculation about the short term future to even more rampant speculation on the long term future.
The Phillies will be picking 16th, their highest pick since ushering in the Gavin Floyd Era over a decade ago. On the hunt for an impact bat, assistant general manager Marti Wolever swears they're going to try and get "a really good player."
Which has been classified by draft experts as a "real neat idea."
It's been a long time since the Phillies drafted somebody like this young scamp, who couldn't even drop the intensity level for his college bio page, so "really good" seems to tbe the way to go.
PHIL JACKSON: GIVING THE PEOPLE WHAT THEY WANT
The NBA Finals begin tonight, meaning once again we've gone through an entire season and a playoff bracket, and now merely have a single team between us and the Heat being crowned NBA champions, again.
Fortunately, this shaky, vertically shot phone camera footage of a cordial Phil Jackson at a book signing dealing with people waving phone cameras in his face has some good news.
MOVIN' ON UP
The Nationals watched Marlon Byrd hit two home runs for the Mets last night, taking the tension out of whether or not they'd let the Phillies slide up a place in the standings with a humiliating loss (they did, 10-1).
Ladies and gentlemen, you're newly arranged National League East division: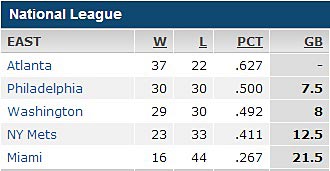 [ESPN]
A NATION IN CRISIS
Philadelphia has once again been roped into controversy due to our incessant name-calling.
This time, however, there's no sporting event or harassment of tourists at the center of this one. No, like all of the bets problems, this one's got a sandwich at its center.
There appears to be some confusions as to what to call "the long sandwich that contains cold cuts, lettuce, etc." According to a recent study, Philadelphia remains the last bastion of the term "hoagie," as if there were some other, more appropriate phrase to use.
Then again, why don't we all just compromise and start ordering "the long sandwich that contains cold cuts, lettuce, etc." That'll speed things up.