Well this isn't how we wanted to go out. But after the rough season we've had, it feels almost appropriate.
A pathetic 27th-place finish. That wouldn't be so terrible, except there were only 29 entries this week.
Our big winner this week was 'redbeard', who took home $70 dollars thanks to a big week from Aaron Rodgers and solid play from nearly everyone else on his roster.
Rounding out our money winners were 'timmyd' in second place, 'mookie4me' in third and 'chipotle' in fourth.
Thanks to everyone else who played this week, and all season. Hopefully they don't replace us with guys who can actually win and we will be back next season to defend our honor. We wish it was a title we were defending, but at least we are walking away with some honor, however little there may be.
In the mean time, we will continue to run our NBA Beat the Expert Challenge and our NHL Challenge once a week.
Be sure to click on the links above to play.
Here is a look at the rest of the Top 10 this week, including our roster, and the winning roster, belonging to 'redbeard':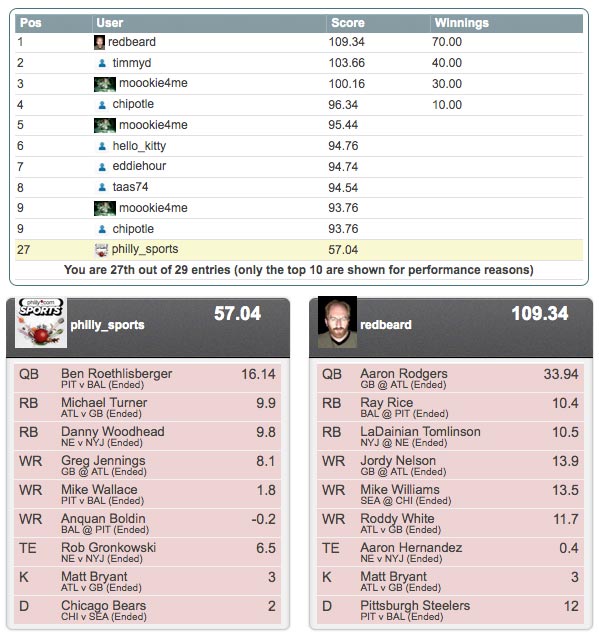 ---
Divisional Round Top Performers
QB - Rodgers - 33.94 points - 366 passing yards, 3 TDs; 13 rushing yards, 1 TD

RB - Rashard Mendenhall - 15.9 points - 46 rushing yards, 2 TDs, 1 fumble; 13 receiving yards

RB - Shonn Greene - 14.5 points - 76 rushing yards, 1 TD

WR - Brandon Stokley - 14.5 points - 85 receiving yards, 1 TD

WR - Jordy Nelson - 13.9 points - 79 receiving yards, 1 TD

WR - James Jones - 13.5 points - 75 receiving yards, 1 TD

TE - Greg Olsen - 17.3 points - 113 receiving yards, 1 TD

K - Mason Crosby - 12 points - 1 FG 0-39 yards; 1 FG 40-49 yards; 5 PATs

DEF - Green Bay Packers - 20 points - 21 PA; 2 INTs; 2 fumble recoveries; 5 sacks; 1 TD

---
Matt Mullin is a sports producer at philly.com and can be reached at mmullin@philly.com. Follow him on Twitter: @matt_mullin.
Andrew O'Brien works on the sports desk at philly.com and can be reached at aobrien@philly.com.