Well, this is a first.
For the first time (at least that we have seen) there was a tie among our money winners. We're not math gurus, but the odds cannot be high that two people would pick the exact same team.
Either way, 'buffalo66' and 'supernaut76' each took home $30 for their efforts, and earned a second-place tie.
However, to quote Ricky Bobby: "If you ain't first, you're last." First place this week, and a cool $80, went to 'jmac11su'.
Thanks to a big game from Arian Foster, the only player to appear on all four of our money-winners' rosters, 'jmac11su' was able to cruise to a 15-point victory.
Our team had a slight setback, finishing in 10th place, but overall we were really happy with our squad. We didn't have any real busts, but it was our lack of a stud that lead to our mediocre finish. In these games, slow and steady indeed does not win the race.
Just ask Albert Haynesworth. He's still running wind-sprints for Mike Shanahan.
For those of you who didn't win any money this week, don't worry. You still have some more chances to take home cash. We will be hosting two FanDuel leagues for the first two weeks of the playoffs. To sign up for this weekend, click here.
Don't forget that there are games on Saturday this weekend and you have to submit your roster before Saturday at 4:30 p.m.
Here is a look at our roster and the winning roster, which belonged to 'jmac11su':
---
Week 17 Top Performers
Some interesting names made our list this week, including several first-timers. Here is a look at this week's top performers:
QB - Tim Tebow (DEN) - 29.6 points - 205 passing yards, 2 TDs, 2 INTs; 94 rushing yards, TD
RB - Ryan Mathews (SD) - 31.9 points - 120 rushing yards, 3 TDs; 19 receiving yards
RB - Arian Foster (HOU) - 31 points - 180 rushing yards, 2 TD; 10 receiving yards
WR - Larry Fitzgerald (ARI) - 18.50 points - 125 receiving yards, TD
WR - Mike Wallace (PIT) - 16.5 points - 105 receiving yards, TD
WR - Nate Burelson (DET) - 16.3 points - 83 receiving yards, TD; 20 rushing yards
TE - Rob Gronkowski (NE) - 16.2 points - 102 receiving yards, TD
K - Nate Kaeding (SD) - 18 points - 4 FG (1 30-39 yards, 3 40-49 yards); 3 PAT
D - New York Jets - 28 points - 1 PA, 3 Sacks, 4 INT, 2 Fumble recoveries, TD
---
Bargains & Busts
Except for a few blowouts, Week 17 was a down week for offenses across the NFL. This was largely because of a number of big names sitting out or leaving games early as their teams prepare for the playoffs (Hello, Mike Vick!).
With regular starters patrolling the sidelines, however, there was ample opportunity for a number of bargain players to step up in their absence, as well as a number of proven commodities to fall down:
Week 17 Bargains
QB - Tim Tebow (DEN) - $6,000 (38th among quarterbacks)
Tebow ended up as the top quarterback for the week, though it was largely due to his rushing effort. The Second Coming ran for one touchdown and nearly 100 yards in his third NFL start, while also adding two touchdowns through the air. It wasn't orthodox, as he completed under 50 percent of his passes and threw two interceptions, but numbers are numbers.
RB - Michael Bush (OAK) - 23.1 points - $5,800 (37th among running backs); 137 rushing yards, 1 TD; 34 receiving yards

Bush is obviously a talented back, so when it became known that Raiders star Darren McFadden would be inactive, a big day could have been reasonably expected from his backup. Delivering on those expectations, Bush ran for 137 yards and a touchdown and caught four passes for 34 yards.
WR - Nate Burleson (SEA) - $4,400 (93rd among wide receivers)
As the second receiver behind Calvin Johnson, Burleson often gets lost in the shuffle in the Detroit offense. That was not the case on Sunday, as he caught six passes for 83 yards and a touchdown, while also picking up 20 yards on a rushing attempt. It was good enough for second among all wide receivers on the week, making him the No. 1 receiver for a day at least.
TE - Heath Miller (PIT) - 11.5 points - $4,600 (67th among tight ends); 55 receiving yards, 1 TD

Miller is usually more miss than hit as a secondary option in the Steelers offense. With Ben Roethlisberger looking to salt away their Week 17 game against Cleveland quickly, though, he looked often to Miller, who caught four passes and a touchdown, ranking fifth on the week for tight ends.
K - Connor Barth (TB) - 13 points - $5,000 (39th among kickers); 1 FG 0-39; 2 FGs 40-49; 2 PATs

Barth kicked three field goals and two extra points in Tampa Bay's upset win over the playoff-bound New Orleans Saints. It was good for third among kickers for the week.
D - Atlanta Falcons (ATL) - $6,200 (31st among defenses)
You no doubt know the Falcons were our bargain pick for the week, as they ranked ahead of only the Cleveland Browns in price heading into Week 17. They responded as any playoff team would against Jimmy Clausen and the Panthers, forcing two turnovers and returning a punt for a touchdown.
Week 17 Busts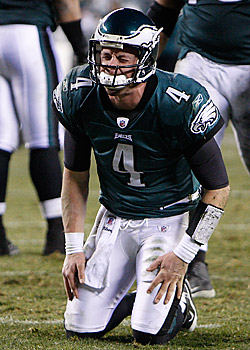 QB - Kevin Kolb (PHI) - 8.68 points - $7,800 (6th among quarterbacks); 162 passing yards, 1 TD, 3 INTs; 12 rushing yards

Kolb found himself under center in Week 17, surrounded by a bunch of backups and wondering just how far he'd fallen since starting Week 1 against the Eagles' playoff opponent, the Green Bay Packers. Kolb did throw a touchdown pass against Dallas, but otherwise was not impressive. DeMarcus Ware treated him as a ragdoll for most of the game, and Kolb turned the ball over four times.
RB - Adrian Peterson (MIN) - 2.9 points - $9,000 (2nd among running backs); 31 rushing yards; -2 receiving yards

Peterson notched only 31 rushing yards on 14 carries against Detroit, and caught two passes for -2 yards. After coming off a strong week against the Eagles, much more was expected of one of the NFL's elite backs. Peterson had the opportunity, as evidenced by the number of carries, but was done in by the Lions' defensive front and teammate Joe Webb.
WR - Vincent Jackson (SD) - 5.5 points - $7,500 (7th among wide receivers); 55 receiving yards

Jackson reasonably was expected to have a big day against the defensively-challenged Denver Broncos, but it was not to be. He caught only three passes for 53 yards, and did not get into the end zone. A disappointing outcome for those who spent big bucks for his services.
TE - Zach Miller (OAK) - 3.1 points - $5,400 (11th among tight ends); 31 receiving yards

Having enjoyed a rebirth of sorts in the previous two weeks after battling midseason injury, Miller was mostly done in by the Raiders' success on the ground in their blowout win over Kansas City. In a point-per-reception league, he would have done just fine, with five catches. Racking up only 31 yards out of those grabs is certainly an underachievement, though.
K - David Buehler (DAL) - 2 points - $6,200 (3rd among kickers); 2 PATs

We told you this also, and you most definitely listened. Buehler was the third-highest priced kicker on the week, but ended up with only two points - one each from the two extra points he kicked in the Cowboys' 1-point win over the Eagles.
D - Miami Dolphins - -2 points - $6,500 (8th among defenses); 38 PA, 1 fumble recovery

What an embarrassing effort. Tom Brady still played more than a half in this game, but he was without top receivers Wes Welker and Deion Branch. It didn't matter to the Dolphins or Brady though. He threw two touchdown passes without getting sacked. Miami forced only one turnover and ended up with negative points.
---
Matt Mullin is a sports producer at philly.com and can be reached at mmullin@philly.com. Follow him on Twitter: @matt_mullin.
Andrew O'Brien works on the sports desk at philly.com and can be reached at aobrien@philly.com.