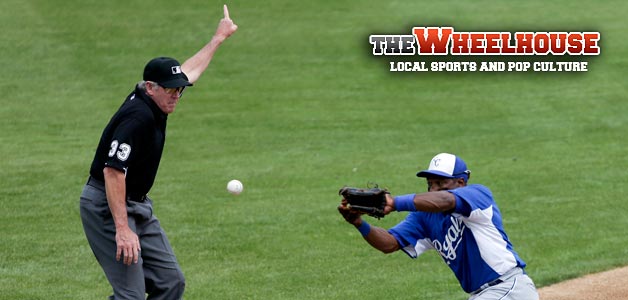 There's an epidemic in baseball right now; a painful, unchecked facet of the pastime that consistently ruins somebody's night.
Confirmed: we have a direct hit on a umpire's cup in the Giants DBacks game.

— A Busted Posey (@A_B_Posey) April 30, 2013
It happens to dozens of umpires every year. Most walk away from it. Others need a minute, while nearby players share a quiet chuckle. In either case, baseball has once again failed to take action on one of its most painful oversights.
Last night it was Dale Scott in Arizona. Earlier in the week it was John Hirschbeck in Anaheim. Next time, it could be some umpire you care about.
The time for action is now.
WHO GIVES A SHIRT
There aren't many things that could make you feel better about the Sixers' season, but I think it's fair to say that a free t-shirt is definitely one of them.
Just give the majority of your personal information to the Philadelphia 76ers' basketballing company and they will in return send you a complimentary garment to hang on your torso, as well as most likely a salvo of junk emails and information on how to secure those 2013-14 season tickets you desperately want. It's that special kind of relationship that means you're in the Sixers' Sixth Man Club!
Also, they don't send the shirt to you; you have to go get it at the Wachovia Center.
Sixth Man Club!
ROBOTS VS. SEA MONSTERS INTERLUDE
WonderCon took place a month ago in Anaheim, but the internet only recently got its hands on some the convention's precious, precious footage.
Footage like this new trailer for Pacific Rim, a classic American tale about massive sea monsters and the equally massive human-controlled robots who punch them.
Starring It's Always Sunny in Philadelphia's Charlie Day as The Exhausted Scientist Who Warned You All This Would Happen.
SECRET BURGERS
Those of you presuming that Andy Reid would cease to be under harsh scrutiny upon leaving Philadelphia will be surprised to learn that his actions during the NFL Draft were intensely studied by Kansas City fans.
Not his picks, of course. Chiefs football isn't about who is on the team. It's about what kind of shirt the head coach is wearing.
And during the draft, Reid was sporting a series of Tommy Bahama numbers that gave way to some inquiries; all of which featured one simple response.
"You wear them and you can hide cheeseburgers underneath and no one will ever know," Reid explained.