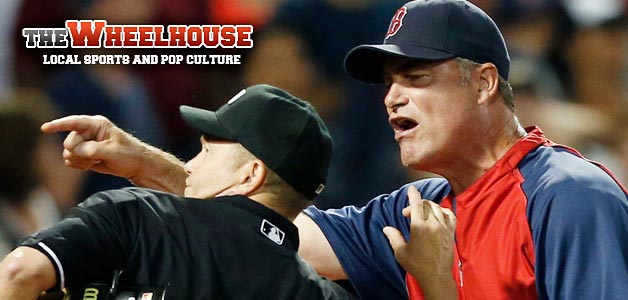 The Rays slipped into first place over the Red Sox last night with the help of a smoldering David Price and a Jerry "Jerry Meals Says It's Safe" Meals, who apparently still has not gotten around to the "safe/out" section of the baseball rule book, and left for last night's game presuming he'd – again – be able to just wing it.
RT "@sullybaseball: Never forget... Jerry Meals has a knack for crappy callspic.twitter.com/wf1jcF31sr "

— MLB Injury News (@MLBInjuryNews) July 30, 2013
Last night's offending play can be seen here, in which Daniel Nava clearly slides under the tag of Rays catcher Jose Molina.
At least this time, Meals himself said he got the call wrong, but again, this being baseball, even that somehow doesn't nullify, soothe, or change anything.
YOU'RE EXCUSED TO GO DO THIS
You do realize there's a contest right now to design a G.I. Joe based on you for a chance to win G.I. Joe: Retaliation on blu ray?
I'm just wondering if you knew that or not because you're not currently doing it.
THE GOOD FIGHT
Oh, you better believe Alex Rodriguez will be fighting you, MLB.
You ban him for life from baseball? He'll ban you for life from Alex Rodriguez. And he's going to be so weird, you'll lose more ratings than you lost last weekend to soccer.
Use whatever rules you want. He plays by his own rules, and they're the same rules that have kept him a headline for over a decade.
Who's going to fill your "universally hated weird guy" quota? Bryce Harper? He doesn't have enough brain damage yet. Yasiel Puig? Too beloved by his fanbase. Chris Davis? He wants to be the guy kids look up to.
So yeah, keep threatening, Alex Rodriguez, MLB. Because pretty soon Alex Rodriguez is going to take your Alex Rodriguez away from you.
JUST CALL IT "WIENER NIGHT," HONESTLY
There's no better place for wieners than Minor League Baseball. And that's why the Vice President/COO of the AA Richmond Flying Squirrels Todd Parnell is so happy about Anthony Weiner.
@gosquirrels Pay Tribute to Anthony Weiner at Thursday's Game with $1 Hot Dogs! See how you can win prizes! http://t.co/FeTebDLY3W

— Squirrels Baseball (@gosquirrels) July 29, 2013
"His scandal just couldn't have come at a better time in regards to the Flying Squirrels promotional calendar," Parnell says.
That's why the Flying Squirrels are hosting "Salute to Scandal Night" on August 1, during which hot dogs will be $1 and fans are encouraged to tweet pictures of themselves with the hot dogs to the team's Twitter account to win prizes.
Because if there's anything anyone wants to do about Anthony Weiner's sexting, it's remember it.
OUT OF CONTEXT DENARD SPAN TWEET!
Ok let me clear up that Tom cruise is not in my room. He actually just left lol. I'm done

— Denard Span (@thisisdspan) July 30, 2013
INSIDE CLUWE
Have you ever wondered what the perspective is of a guy waiting to receive a punt, anticipating hundreds of pounds of wrath sprinting at him from the opposite direction?
With the help of Google Glass, Chris Kluwe of the Raiders gave you that chance, minus the wrath.