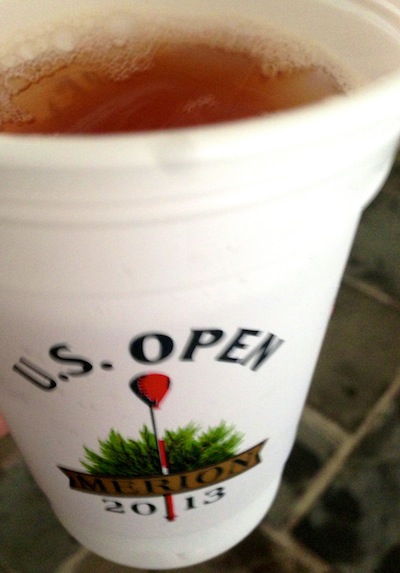 One of the things I noticed today while at Merion Golf Club, host of the 2013 U.S. Open, was the price of concessions.
I was expecting them to be sky-high, but compared to other major sporting events, I thought they were pretty good.
CLICK HERE FOR FULL U.S. OPEN COVERAGE.

Sure, it's $2.00 for a Snickers, but it's only $5.00 for a sausage, egg and cheese breakfast sandwich.
There are plenty of options around the course, but here are the prices listed at the concessions stand located next to the 18th hole and clubhouse:
LUNCH

|

SNACK

|

BREAKFAST

|

BEVERAGE

Philly Cheesesteak
$9.50
Roasted Pork Sandwich with Slaw
$8.50
Grilled Chicken Sandwich with Cheese
$8.00
Beringer Wine By The Glass
$7.50
Cheeseburger
$7.50
Stella Artois
$7.00
Sliced Turkey & Cheddar on Brioche Bun
$7.00
Thai Chicken Wrap
$7.00
Michelob Ultra/Budweiser
$6.50
Vegetarian Wrap
$6.50
Nathan's Famous Hot Dog
$5.00
Sausage, Egg & Cheese Breakfast Sandwich
$5.00
Ice Cream Bars
$4.50
Soda/Gatorade
$3.50
Orange Juice/Lemonade
$3.50
PB&J Uncrustable
$3.00
Cinnamon Roll
$3.00
Bagel & Cream Cheese
$3.00
Chocolate Chunk Cookie
$2.50
Loralie's Home-made Brownie
$2.50
Bottled Water
$2.50
Coffee & Hot Chocolate
$2.50
Snicker's Candy Bar
$2.00
Whole Fruit (Oranges & Bananas)
$1.50

LUNCH

|

SNACK

|

BREAKFAST

|

BEVERAGE



I haven't tried any of them yet, but I'm sure I will soon.