Tim McCarver is leaving FOX Sports at the end of this season, retiring from being the voice you complain about during the playoffs when you aren't complaining about Joe Buck.
Presumably, the move is based on his music career, which according to Amazon's inventory, is taking off.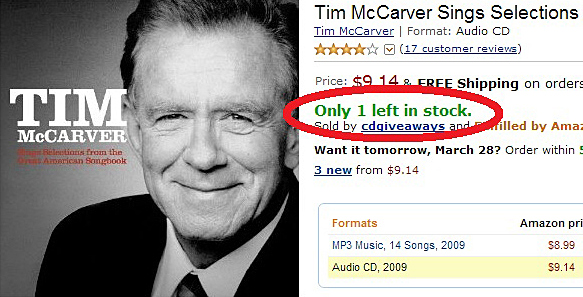 Twitter was less than saddened by the news, indicated by the wave of relief and exclamation points that vented from it depths.
youtu.be/HLyX4DbE6Hc RT @ourand_sbj Fox's big announcement: This will be Tim McCarver's final season calling MLB games.

— Dennis Tarwood (@tuffyr) March 27, 2013
This is Tim McCarver's final season on FOX. Frank Caliendo to replace him as Tim McCarver.

— Batting Stance Guy (@BattingStanceG) March 27, 2013
really actually gonna miss Tim McCarver. frankly i just like it when a game is called by a nice guy who enjoys baseball.

— Jon Bois (@jon_bois) March 27, 2013
"Thank God Tim McCarver is retiring! Can't wait to hate the next guy that replaces him."

— Kenny Gutzler (@KennyGutz) March 27, 2013
Replace Tim McCarver with Legendary Long Time Voice Of The Phillies Chris Wheeler

— FanSince09 (@FanSince09) March 27, 2013
One of baseball's more popular memes was criticizing Tim McCarver, so it will be curious to see where all of that hate goes once he is gone.
Probably to Joe Buck.
"Oh well, now I'm just going to have to talk twice as much!" - Joe Buck

— Craig Glaser (@sabometrics) March 27, 2013