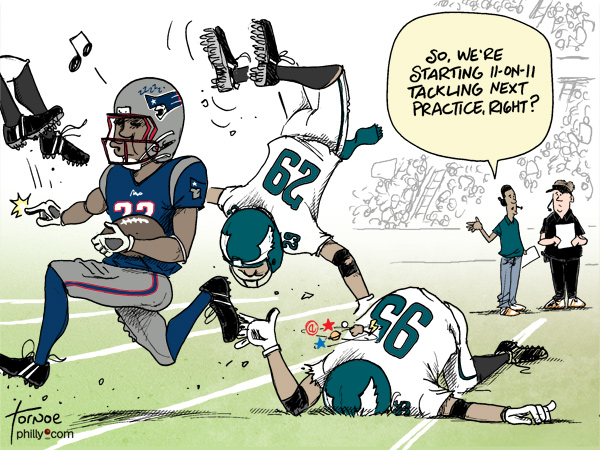 As anyone who watched Andy Reid's Eagles can attest, having a physical, heavy-tackling training camp doesn't mean that level of ferocity will transfer over to the regular season.
I think Chip Kelly's reasoning for not allowing tackling to the ground during camp was good. But after watching player after player whiff on various Patriots running backs during Friday's first preseason game, it's possible Kelly underestimated just how bad the defense he inherited is.
I know it's just preseason, but the Eagles defense gave up a jaw-dropping 334 yards and 24 points in the first half alone, and running backs Stevan Ridley and LaGarrette Blount together racked up 95 yards on just eight carries.
"There were a few missed tackles out there," Kelly said following Friday's game - the understatement of the off-season. Let's hope it's something he works on with his squad from this point on, or this year's defense may top last year's dismal total of 111 missed tackles.