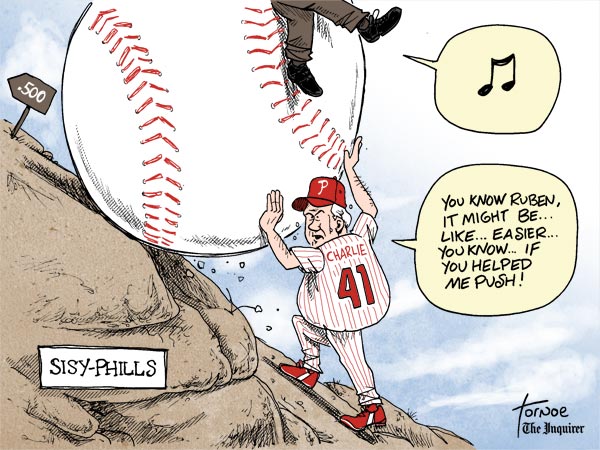 Sisyphus was the king of Ephyra, and according to Greek mythology, he was punished for being deceitful by being condemned to roll a boulder to the top of a mountain, only to watch it roll back down again and again.
Going into last week, it looked like the Phillies might have their best shot at finally pushing that rock over the .500 hump. After all, with three relatively easy series - one against the pitiful Marlins and two against the lowly Brewers, it appeared the best chance the team had of righting the ship and moving up.
They did manage to make it over the .500 mark for the first time all year after a 5-1 victory last week over the lowly Brewers. But they followed that high point by losing four straight games against last place teams, including blowing a game late Tuesday night against the pitiful Twins, and find themselves in third place and three games under 500.
At some point, I think we have to stop calling the Phillies inconsistent or unlucky and admit the truth: This is a .450 to .500 team that is performing to their talent level. Frankling, they're lucky to even be hovering near .500, considering they've faced one of the easiest schedules in all of baseball, with a strength of schedule ranking 26th out of 30 teams. It's hard to fathom this team won 102 games just two years ago.
I hear Dennis Green echoing in my head: "They are what we thought they were!"
The only good news on the horizon (aside from Dominic Brown) is the Twins victory moved them up to fourth place in the American League Central, guaranteeing the Phillies won't lose six straight against last place teams.
If things get any worse for this team, I might have to change my cartoon imagery from Greek mythology to Spanish literature. If you see a cartoon down the road showing Charlie Manuel attacking windmills, you'll know the team is in real trouble.
Rob Tornoe is the sports cartoonist for Philly.com. Check out his cartoons here, and suggest your cartoon ideas to him on Twitter @Robtornoe