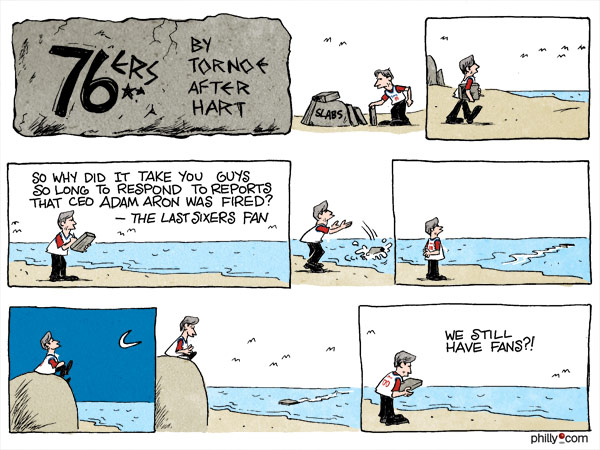 On Monday, reports surfaced that the dysfunctional 76ers fired CEO and Pat Croce wanna-be Adam Aron. Instead of coming out and denying the rumors, the team waited hours before PR man Mike Preston finally confirmed he wasn't fired, although Daily News reporter Bob Cooney did note it appears his role with the team may change.
Maybe our first sign should have been that Aron didn't instantly tweet about it. "I may have been fired, but we have a cool new contest to find the next Sixers CEO!"
Aron didn't respond on Twitter until after midnight, noting that he was on vacation in Africa and that "Ala Mark Twain, rumors of my demise are greatly exaggerated."
Despite the fact that Aron and majority owner Josh Harris were both out of the country, this is a ridiculous way for a multi-million dollar sports franchise to operate. But you know the saddest part of this whole mess? It's the first time in months that anyone has even been remotely interested in the 76ers.
Sigh.
By the way - the cartoon is in reference to the great comic strip "B.C," by the late Johnny Hart. The Sixers communication team would have done well in prehistoric times.