Today, we bid an unexpected farewell to long time Phillies broadcasters Chris Wheeler (with the team since 1971) and Gary Matthews (Phillies announcer/hat salesman since 2007).Not a complete, farewell, mind you; they'll be finding other work somewhere in the organization. As Jayson Stark points out, it will certainly be different around here.
Truly end of an era in #Phillies broadcast booth. Last season at least one of Harry the K, Ashburn or Wheels wasn't in the booth was 1962!

— Jayson Stark (@jaysonst) January 8, 2014
But situations like the following will become precious memories, rather than every day realities. So let us look back at the moments that had us going "ha," "what?" or "..."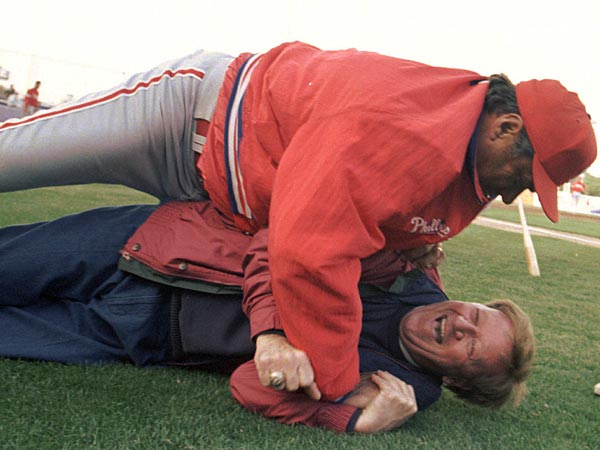 [Wheeler being tackled by former Phillies manager Jim Fregosi, after presumably saying something montsrously upsetting, Wheeler-style.] (AP/Bill Sikes)
- First, Wheeler's journey to the booth started as a communications major and turned to the Phillies after a reccomendation from his friend, former voice of warm Sunday afternoons, Andy Musser.
- Wheeler's fist-swinging celebration after the 2008 World Series win.
- Wheeler, clearly jealous that Matthews got a pair of maracas to play with. But Matthews didn't get to meet the president.
- During a postgame interview with Matthews, Chase Utley calls Chris Wheeler by his secret nickname.
- Both Wheeler and Matthews gave heartfelt interviews on Harry Kalas after the legend passed away.
- The 700 Level presents: "Who Said It: Sarge Matthews or a Child in the AT&T Commercials?"
- A classic, priceless Wheeler misstep.
- Check out this amazing bat flip from Matthews' playing days, my lord.
- Chris Wheeler was not a fan of people on their cell phones. There's a ball game right there and you're blabbin' on about Penn State, or some other non-Phillies baseball topic, whatever there is.
"Oh, these cell phones," Wheeler says.
"Well, we all use them," Tom McCarthy replied.
"Yeah, well, geeze," Wheeler sighed. Then he launched into a mini-rant about his lunch earlier.
- Now, there is the issue of who will replace the long-tenured broadcasters. No candidates have been announced, but there are plenty of choices we do not want the Phillies to make.
of the realistic player options Bottalico is probably the absolute worst

— RAD GOGGLES DOG (@Phylan) January 8, 2014
Curt Schilling would be THE. WORST.

— FGSB (@FlyGoalScoredBy) January 8, 2014
Oh no not Tim McCarver nooo

— Paul Boyé (@paul_boye) January 8, 2014