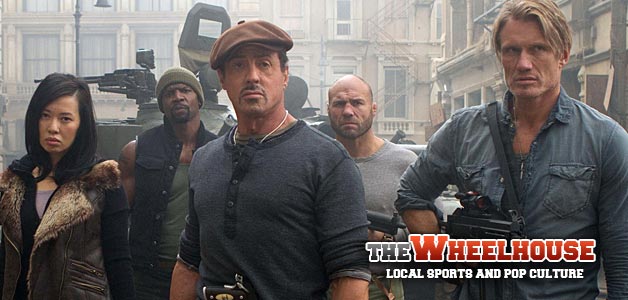 Sylvester Stallone is reporting that the upcoming Expendables 3 will feature even "MORE blood and humor," straying from the deep message and complex themes of the franchise's two preceding entries.
EX3 needs NEW blood and more humor.... The films were always meant to be more on the humorous side with moments of drama

— Sylvester Stallone (@TheSlyStallone) March 13, 2013
Fans of Stallone's deeply personal narrative motifs, as filtered through the perspective of a squad of international roundhouse kick/crossbow specialists, may find themselves alienated as the series begins a departure from its intensely poignant roots.
Like any director looking for legitimacy, Stallone has tried - and failed - to convince martial artist Steven Seagal to play a prominent role in the film.
However, Stallone has stated that there is mutual interest for Jackie Chan to appear, which is more or less a confirmation that the film will also feature a prolonged, frantic punching/wall-climbing sequence, per Oscar requirements to qualify for the category of Best Film Adaptation of an Idea Sylvester Stallone had to on the Way to File for Bankruptcy.
The following clip is 48 seconds long and features a motorcycle, helicopter, and water tower all being destroyed.
TEAM OF DESTINY
The Sixers got to be part of a streak last night – no, not their 13 away losses and counting – but an actual winning streak!
Sadly, it was the other team's - but the Sixers were included in it by losing to them, making them a default part of history.
When people look back and think about the 2012-13 Miami Heat's infamous 20+ win streak, they won't be able to do so without mentioning the Sixers in passing, or thinking, "Man, it would have been really humiliating had they lost to the 76ers instead of getting that 20th win in a row."
And once more, as luck should have it, the stars are aligning so that the Sixers could be forever immortalized for this historical season.
If the Heat are to tie the Lakers' all-time winning streak, it will be against the Sixers in Miami on April 6.

— John R. Finger (@jrfingerCSN) March 14, 2013
There's really no other way to say it: The Sixers are a team of destiny. Though it will probably be someone else's.
HOLLYWOOD GETS ITS PHIL
Two Philadelphia originals are making moves in Hollywood this week.
The crew from It's Always Sunny in Philadelphia is opening a second location of Paddy's Pub, the real life bar without the scripted atrocities that have been committed in the business' fictional counterpart. The production company of actors Glenn Howerton, Rob McElhenney, and Charlie Day also put out an open call for scripts last week, hinting at a new project and giving unemployed film majors that shot they've been waiting for (Sources confirm they've "got a really good feeling about this one.")
And Tina Fey has a seat waiting for her across from James Lipton, where the actress and writer will give pleasing, charismatic responses to slowly annunciated inquiries.
The interview is timed to match up with Fey's upcoming movie Admission, in which she plays an uptight older woman who never gave love a chance until laid back single dad Paul Rudd comes along and honestly by reading this sentence you've already basically seen the movie.
FLIGHT PLAN
The Flyers have a very simple formula: Stress the importance of winning games, lose the game due to human error or complacency, give a quick sound byte for the headlines, and call it a night - got to be up early tomorrow to stress the importance of winning games.
So last night, the Flyers called both games against the Devils this week "must-win," followed that talk up with a jarringly incompetent 5-2 loss, and sent out the night's ambassador to failure - this time Scott Hartnell - to tell reporters, "We're not playing desperate enough."
It's the circle of an unsustainable life, as the Flyers will in all likelihood not survive long enough to catch the playoffs - a notion exemplified in the following clip, in which the Devils score pretty much just because they want to.