- So let's catch up with the Olympics, where the men's hockey goalie for Slovakia has been trained quite curiously.
- And the NBA All-Star Game, where a man in a bull costume got LeBron top notice him, then sheepishly retreated.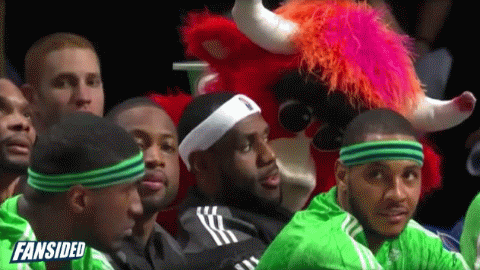 And okay, that's your weekend in sports.
- Masahiro Tanaka is in spring training for being an American superstar, too, so he's expected to utter a wrong thing or two. If it weren't 40-year-old for Derek Jeter announcing he was satisfied to retire with only five World Series rings, he might be the most talked-about Yankee this year.
expect we'll hear tomorrow about how Tanaka is a mix of 1999 Pedro, 1913 Walter Johnson, and 1997 Roger Clemens

— コリン (@ColinHumphreys) February 16, 2014
- Well it DOES.
The Abyss is on @SyfyTV great movie! Makes you wonder if we are really alone on this planet!

— Boyz II Men (@BoyzIIMen) February 15, 2014
- Come on out and buy the new Aaron Rodgers pickup truck, quickly; before you read the ad and don't want to anymore.
- 36-year-old Mark Mulder's comeback attempt to baseball was slightly derailed by an Achille rupture, but that hasn't stopped him from swearing he'd return.
- Charles Barkley interviewed President Obama, which through a fairly complicated series of escalating bets is why Holland now has the launch codes.
- It turns out that those two pairs of Olympic ice dancers don't have the most vicious rivalry in sports.
- Kevin Frandsen grew a beard and complimented Dodgers closer Brian Wilson, and also, his wife called him "sexy." This concludes today's news.