UPDATE (Friday, 9:06 a.m.) - Deadspin comes through again with an update on the MLB facebook issue. Apparently the sites weren't hacked at all. It was actually the work of a rogue MLB employee who had access to the acoounts of all 30 teams.
Their report has a much more thorough rundown of what happened, so I suggest reading that. But here are the main points:
According to the story, the posts were done as a stunt and not intended to be seen by anyone. The account information is in the hands of a group of young employees who make less than living wage. It also says that "the best ones" weren't even reported. Can we see those, please?
---
According to Deadspin, someone apparently hacked the Yankees Facebook page to inform the masses that Derek Jeter was going to miss the rest of the season due to gender reassignment surgery. The post has since been taken down, but thanks to the miracle of the internet, it will live on forever as one of the funniest screen grabs in the history of screen grabs.
Enjoy... unless of course you bleed blue and white pinstripes.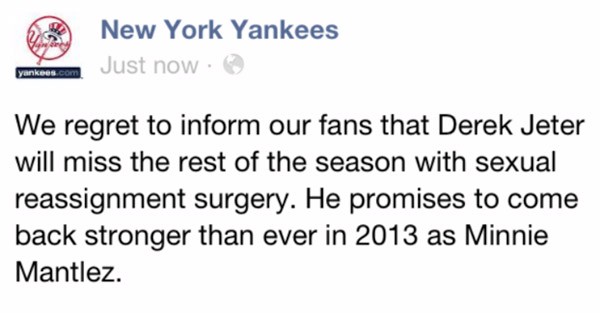 UPDATED (4:25 p.m.) - Deadspin has updated their original post, adding that the Chicago Cubs Facebook page was also hacked. Since they don't have a player like Jeter to mock, the hacker went after one of their more well-known celebrity fans, Bill Murray.
The Cubs acknowledged that their page was hacked, as well as the Yankees, and tweeted the following:

UPDATED (4:35 p.m.) - It also appears that the White Sox, Giants, Marlins, Padres, and Nationals were all hacked as well. Nothing quite as clever as the Yankees post, but funny none the less.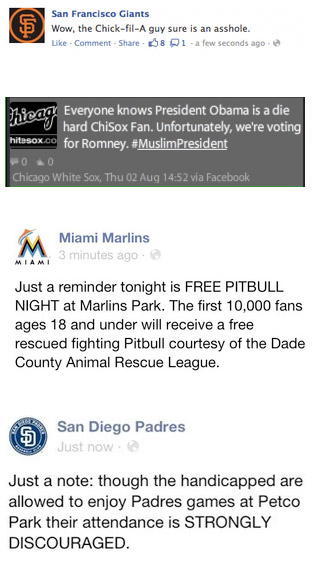 UPDATE (Friday Morning) - Just when you thought it was over, two more pages were hacked last night. This time it was the Angels and the Braves. With such a wide range of teams being hacked, it leaves one wondering which team the hacker is a fan of.