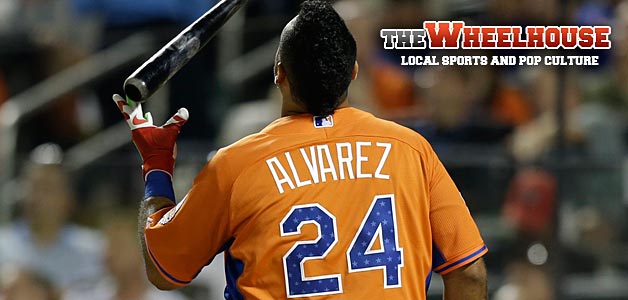 It was a gallery of moonshots last night at Citi Field, as seven home run experts and Pedro Alvarez gathered to see who could put the most distance between themselves and a baseball, using only a big wooden stick.
These events have a way of turning us all into experts.
Watching home run comp.I can easily hit the ball further than any of them

— Jose Canseco (@JoseCanseco) July 16, 2013
Please, Jose. What if some of these guys showed up on Twitter and tried to tell you how to be an insane person?
But you don't have to be an expert or Jose Canseco to know that some guys just don't hit as many home runs as others, and that some of those guys who hit a lot of home runs weren't included in the league's official home run-hitting contest because David Wright thought maybe there was a line drive portion of the contest for Pedro Alvarez to excel in.
Meanwhile,
Also last night, Yoenis Cespedes, who beat out Bryce Harper for the win, has cancelled all future post-homer bat flips by performing this beauty.
HE'S AN NL ROOKIE OF THE YEAR CONTENDER, AN ALL-STAR, AND GOT NAKED IN A MAGAZINE...
...but when is Matt Harvey going to do something to get noticed?
Harvey will be starting the All-Star Game for the National League, but, as Jimmy Fallon pointed out, that doesn't mean anyone, including Mets fans, knows who the hell he is.
POOR DWIGHT HOWARD
Dwight Howard's on a tell-all tour on which he tells us all how mean Kobe Bryant was; he demanded things of people, wanted to do it all himself, and in general asserted himself in ways that made Howard feel unwelcome.
Fortunately, Howard just isn't that kind of player.
Dwight Howard and James Harden informed Rockets general manage Daryl Morey to not trade Jeremy Lin or Omer Asik.

— NBA Legion (@MySportsLegion) July 15, 2013
WE'RE IN THE MONEY
Forbes recently ranked a bunch of sports teams based on something, and you better believe you need to have a reaction to it.
The itinerary this time was "50 most valuable sports franchises," a wide berth, leaving space for the Eagles (#15) and Phillies (#41). Which just goes to show, if we keep pumping money into our local sports teams, they'll keep rewarding us with world championships.
…