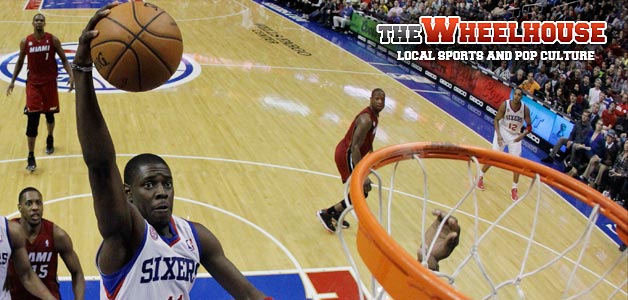 So when the Sixers said they had a plan, what they meant was, "Yeah, seriously, it's a plan."
Wait, did Jrue get traded?

— evan turner (@thekidet) June 28, 2013
They lopped Ned Stark's head off last evening with a trade that sent the remains of Sixers basketball spiraling, and even had old friends calling to see what in the hell was going on.
Who y'all pickin @thekidet ???

— Andre Iguodala (@andre) June 28, 2013
But in the end, despite the bittersweetness of it all, there were still threads left untied; fantasies left unrealized; realities that ceased to be, making the gravity of the decision weigh a little more.
But really how cool would it have been to have a guy named Nerlens play in New Orleans this ruins everything

— Alexa (@lexuhbooz) June 28, 2013
Also the Celtics made a trade, or whatever.
Jason Kidd will soon be coaching Kevin Garnett and Paul Pierce.

— SB Nation (@sbnation) June 28, 2013
THE CHASE CONTINUES
A few nights ago, the Phillies won a game because the Padres couldn't do the little things right. Last night, they were on the other side.
But we did get treated to a classic Chase Utley "I wasn't sure if that was a home run so I just ran around the bases at full speed like a mad man."
But yeah, then we lost. The key was that Dodgers phenom Yasiel Puig was able to survive his full speed crash into the time-tested phenom proving ground of "that wall in Dodgers Stadium," which Bryce Harper failed a few weeks ago.
A TO Z
A few days ago, former Flyer Harry Zolnierczyk was sentenced to take the black and play for the Penguins, a fate no man deserves, except a few, but they're already on the Penguins.
Still acclimating to the news, Harry Z took some time this morning to explain how badly he wants to punch you in the face.

Meanwhile, Andrew Shaw's face is having some problems after that puck hit it.
PRECIOUS MEMORIES
Hey, remember when Jrue dunked on Lebron.
*sigh*
You know what will distract you? Here's a trailer for a prison break-out movie. Starring Sylvester Stallone and Arnold Schwarzenegger. In 2013.
Hell, even Vincent D'Onofrio is in there.