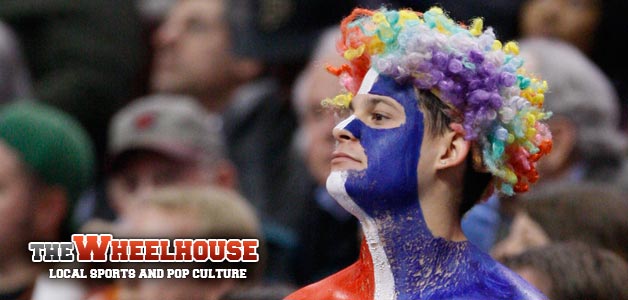 It's the Sixers offseason, and even former Sixers are already hard at work; Andre Iguodala and Eddie Jordan are both being given more responsibility than they are used to and possibly than they should have.
The current Sixers aren't quite as busy, but thankfully, the fans are remaining nice and sane.
@sixersceoadam Just figured I threaten to burn down the Wells Fargo Center if you draft Cody Zeller have a good rest of your week

— M̶i̶k̶e̶ ̶M̶e̶e̶c̶h̶ (@meechone) April 24, 2013
Ha, ha, ha.
Fun.
Arson was the only thing really missing from the Sixers' season, and in some cases would have arguably been an improvement. Regardless, the NBA draft is in about two months, so the Sixers have a while to measure their options, RE: fires.
SLOW MOTION
Everybody loves Manny Ramirez, in that MLB highlights video you still have from 1999.
Now, Manny has fled baseball via retirement to escape any punishment for a positive drug test. These days, he keeps Manny-being in Taiwan, where the Chinese Professional Baseball League plays.
Recently, Manny did what he does best and hit a home run. He then did what he does second best, something inexplicable.
This time, it was taking 30 seconds to run the bases.
KNIFE BEATS ROCK
The Rock's upcoming film about being just a regular dude who can bench press an elementary school and gets mixed up in some bad stuff.
But in real life, The Rock is simply Dwayne Johnson, that guy who had to have emergency hernia surgery.
Yes, he finally ran into a problem he couldn't People's Elbow his way out of, and sadly, The Rock had to go under the knife. After waking up following the successful operation, he began the traditional process for those recovering from surgery.
Surgery a success! Dr repaired 3 hernial tears (fun pain). Superman is on the mend.. #WeFallWeRise twitter.com/TheRock/status…

— Dwayne Johnson (@TheRock) April 23, 2013
It's even better if you imagine nurses and doctors rushing in as the medical devices beeping and going haywire when he flexes every muscle in his torso and face.
EVERYONE'S AN ALL-STAR FOR NOW
Major League Baseball revealed their 2013 All-Star Ballot, and, you guessed it, it's loaded with ball players.
Vote for all of your favorites. A first baseman! A second baseman! Put "Braves suck" in the write-in section! Just really go nuts with it.
Everybody vote for Delmon Young for the MLB all star game. #VoteForDelmon

— VoteForDelmon (@VoteForDelmon) April 24, 2013
As far as the Phillies go, there aren't too many shoe-ins in the starting nine this year. Roy Halladay just isn't hitting this year. Chase Utley already has more errors than he has home runs. It's a well-documented fact that the season is ruined.
Here's a montage of some of their best offensive moments of the season.