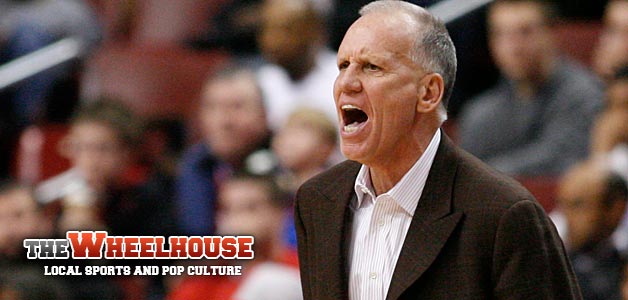 The Sixers' hopes of making the playoffs crawled out of a river in New Jersey yesterday, and boy, they did NOT look good.
If you've got eleven and a half minutes to waste, then find your nearest companion, hold hands, and schedule a viewing of Doug Collins' post game press conference from the team's 98-84 loss to the Magic, who at 16-41 are only not in last place because they play in the same division as the Charlotte Bobcats. No need to read the game highlights, that's... that's wholly unnecessary.
Regardless of who you blame - Andrew Bynum, the lack of effort, Collins himself, the absence of a man in a bunny suit - Just see if you can stomach 11:29 of a frayed, tired man talking into a microphone.
"I sure hope it can't get any worse than this."
Boy, he... really shouldn't have said that. If this Sixers team has proven anything, it's that they can always sink lower.
Tuesday night, Spencer Hawes out-rebounded Andrew Bynum, 1-0.

— Bob Vetrone Jr. (@BoopStats) February 27, 2013
LOW FLYERS
Oh, what are you laughing at, Flyers? Your bottom-scraping roommates, just cruising until the day math graciously eliminates them from playoff contention?
You think Simon Gagne will save you? Yes? Does he have a bright orange time machine, so you can all pile in (Careful, Hartnell) and reverse the outcome of a few of your more demoralizing humiliations?
Gagne, despite his recent injury issues, does bring a sharpened skillset, as well as all that invisible stuff like leadership and familiarity and the ability to make fans nostalgic. There are certainly worse options skating around on the roster.
Sorry about the negativity. I watched those Sixers highlights and now I'm worried that Nick Young is going to crawl out of a well on my TV in a week's time.
PUT YOUR TRUST IN THE WORM
Just as the door to North Korea opens a smidge, the United States wants to force Dennis Rodman through it.
With tensions mounting, what with the mushroom clouds and all, now is the time for thoughtful, motivated diplomacy. That Dennis Rodman's name even came up at that meeting is questionable. That it snowballed from some dated reference to an actual idea is worrisome. That with so much legislation and so many programs in hopless stasis in our government, this one - the one to send Dennis Rodman toward the global conflict - has survived all procedures and criticisms and will see the light of day feels like the implausible plot of some movie nobody would have seen 20 years ago.
But here we are. Watching it happen.
Good luck, everyone.
CHASING THE BRAVES
Hey speaking of threats, Jayson Werth actually complimented the Phillies, saying they are the Nationals' biggest threat as they pursue a second consecutive NL East title.
Yesterday, FOX Sports' Jon Morosi caused some mayhem (READ: brought attention to himself just before publishing a column) by spitballing that the Phillies would finish above the Braves in 2013.
Certainly possible, but at this juncture, not exactly a smart pick. His reasoning was "the rotation," which seems like he's basing his analysis on a newspaper from 2011. Also, remember that time he was right about that other, completely unrelated thing?
Outcry over picking Phillies to finish ahead of Braves reminds me of reaction to my SF over TEX World Series pick at start of '10 playoffs.

— Jon Morosi (@jonmorosi) February 26, 2013
Naturally, there was some speculation as to the quality of his thought process, but then Werth chimed in with a similar notion, and, well... Wild Card 2013?