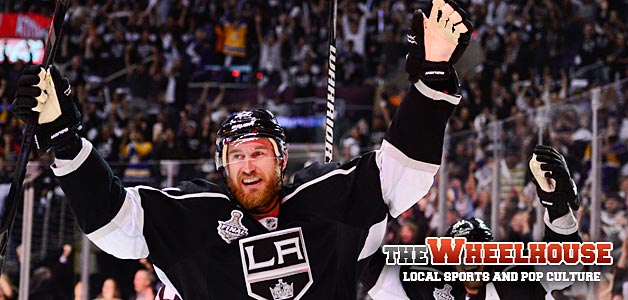 It's anti-Flyers week for the NHL, as each of the top three stars in the league over the past seven days can make Philadelphia's skin crawl in some form or another.
Blue Jackets goalie Sergei Bobrovsky you may remember from his Philadelphia goaltending days as the guy whose disappointing playoff performance led to the acquisition of Ilya Bryzgalov, a goalie whose bar for success remains questionably low at times.
Then there is Kings center Jeff Carter, whom you recall as the former Flyers star whose style of play had the Flyers punish him by abruptly shipping him out of town with his best friend to eventually wind up in Southern California with the Stanley Cup. Take that, Jeff!
And lastly, there is of course, Sidney Crosby.
Any success of Sidney Crosby is a failure for Philadelphia in some capacity.
KICK IT
It isn't hard to have a foot, but it is hard to build a career around it. However, some men look down at the bottoms of their legs and see glory.
Those men are the NFL's kickers, an elite unit of athletes who make up 29 of the 30 top all-time scoring ranks in league history. Sure, we've seen them trot onto the field to win the game, their smaller frames and one-bar face masks doing little in the way of intimidation.
But there's is a widely exposed job that can warp a man's foot-bones, chew off his toe nails, and/or permanently ostracize him from the rest of his co-workers. An inch or two to the right and somebody else is going to Disney World.
It's the high stakes world of field goalers that's gets the documentary treatment in the upcoming film, The Kicker.
How many times have we seen a man punting a ball into a net on the sidelines and thought, "Man, I'd love his job." Well, finally, a filmmaker has the vision to accumulate all the reasons we would probably suck at it.
Thank you for confirming that the one professional athlete's job we thought we might be able to do is, in fact, far more physcially demanding and mentally corruptive than we could possibly know.
HIDE THE SIX-FINGERED MEN
There are few performers as universally-celebrated as Mandy Patinkin. Christopher Walken probably is. Jennifer Lawrence seems pretty popular right now. Does everyone still like Louis C.K.? Or is that over yet?
Through thrilling roles like Inigo Montoya in The Princess Bride and Saul Berenson on Homeland, Patinkin is a vivid entertainer, who also happens to bring a captivating beard into the equation.
But it is his musical talents that will bring Patinkin to the William Penn Charter School's Kurtz Center for the Performing Arts this Sunday, presumably to sing some Broadway and Yiddish music, not hunt down and kill a man with an extra digit on his hand.
No word yet on the beard's involvement.
SIXERS STOP AT FIVE
The Sixers were all smiles last night for some reason, having broken a five-game losing streak that pretty much killed whatever was left of anyone's spirit and left in its place a horrible, emotional numbness.
Still intact is the 13-straight losses away from the Wells Fargo Center, a streak that will probably not be threatened by visiting the world-eating Miami Heat on Wednesday.
Thank god they play Miami on Wednesday. I hope they lose by a thousand. The more demoralizing the better.

— Michael Levin (@Michael_Levin) March 12, 2013
But, regardless of how the Sixers play they do still have one thing: Games on the schedule. And they have to play them. It might be a law. And it's not like there's anything more productive for six guys to be doing than playing Sixers basketball.
Well, maybe one thing.