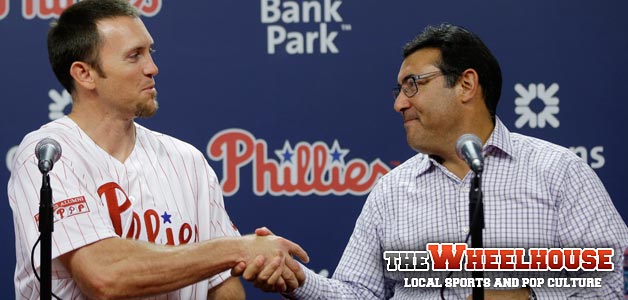 Ruben Amaro finally got the Phillies some bullpen help, signing Phillies World Series hero Brad Lidge.
It was only for one game so he could retire as a Phillie and spend the evening reliving his crowning achievement, but he was still more a effective signing in that one pitch than Jonathan Papelbon was all night.
Fortunately, we have the past, which we can slip into freely at any time.
ALLEY-OOPS
John Wall is so fast, he can throw an alley-oop to himself in the time it takes people to realize this video is not real.
THE MAKINGS OF A CLASSIC
Bucks County is under siege at the moment, as an unknown creature remains at large, having been spotted twice by the same man.
It's been described as a "hairless fox" and Syfy has already dispatched a writing team to figure out how to combine a million of them with the sexiest natural disaster possible.
AND YOU THOUGHT PAPELBON'S WAS BAD
The Mariners' Henry Blanco was kind enough to deposit a souvenir for one lucky fan in the stands at Fenway Park last evening, but tragically bounced it off a Red Sox fan's knee bone.
It was slightly less painful than what happened to the Mariners in the bottom of the ninth inning.
FAN FAVORITE
Jim Belushi showed up yesterday – who cares where - to the delight of Jim Belushi fans everywhere.
And right on cue, here's Jim Belushi to ruin everything.

— 'Duk (@KevinKaduk) August 2, 2013
Eric Collins: "There's a growing sentiment in Chicago that doesn't like Jim Belushi." It's not just Chicago, Eric

— Eric Stephen (@truebluela) August 2, 2013
How would you go about framing Jim Belushi for kidnapping Cal Ripkens mother? Asking for a friend.

— 'Duk (@KevinKaduk) August 2, 2013
I'm seriously asking because I don't know -- what's the deal with all the Jim Belushi hate?

— Anthony Jackson (@dodgerscribe) August 2, 2013
It's a good question. Belushi's timeless music and fellow celebrities attesting to his character have made him the icon of his generation, the Cubs seem to think.