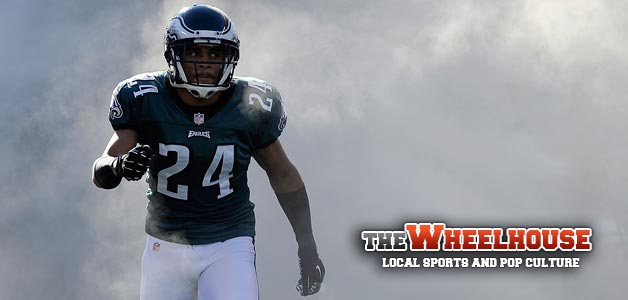 If you had to guess what somebody meant by the phrase "getting Nnamdi'd," certain everyday mishaps would come to mind.
Realizing you have paid someone a great deal of money for skills they no longer possess.

Falling down, hard, in front of everyone, multiple times.

Having a city full of people call into a radio show and complain about you.

Being considered a bad cornerback in the National Football League
Nnamdi Asomugha thinks that the phrase is best suited for pranking someone, as he indicated in a skit on the Nick Kroll show, during which he convinced a "woman" (Nick Kroll in drag) that he would marry her, then did not. I can see why they call it "Comedy" Central!
But mostly you feel bad for the Nick Kroll Show, who probably thought they could get a relevant, recognizable NFL star to make a cameo on their show but instead got "Nnamdi'd" pretty bad.
YOU SHALL KNOW HIS VELOCITY
Stephen Strasburg hit Chase Utley in the shin with a fastball during yesterday's Grapefruit League game, and the next inning, Roy Halladay threw behind Nationals back-up something or other Tyler Moore. Neither pitcher claimed responsibility for their actions, though there were telling remarks in both of their post game interviews.
Stephen Strasburg said he unintentionally yanked his fastball to Utley. "I don't have any reason to throw at him, do I?"

— James Wagner (@JamesWagnerWP) March 6, 2013
Roy Halladay on his pitch behind Tyler Moore's back: "It slipped." He smiled.

— Matt Gelb (@magelb) March 6, 2013
First of all, Doc was only throwing 86-88 mph yesterday, which would be like getting hit by a very small, spherical, timesplitting DeLorean.
This may be a fun antidote to accusations of complacency, or it may be so that pitchers think twice about pitching inside to the Phillies in fear of retribution, which the Phillies have installed because the majority of their lineup is made of glass.
The Phillies and Nats don't play each other until late May, so only time will tell how this hate-filled rivalry to physically harm each other moves forward. Ah, baseball.
GRAB THE RED BULLS BY THE HORNS
If already you're sick of all this talk of rivalries and public statements, then stay away from Matt Kassel's mouth.
Kassel is the newest Philadelphia athlete to "get it," lambasting his former team - a New York team - almost as soon as his feet touched the city limits.
When the New York Red Bulls first signed the homegrown Kassel two years ago, then-coach Erik Soler called him a "good all-around midfielder that we can develop." They proceeded to play him on very limited occassions, which according to Kassel was was detrimental to devleopment and mostly due to the fact that he is American.
The first rule of being signed by a Philadelphia team is to talk about how much better they are than your former team, especially if that team is from New York. Cliff Lee set the bar high, but it is refreshing to live at a time when athletes like Kassel can follow his example.
IT WAS THE RIMS, I TELL YOU
A fatigued Sixers squad traveled to Atlanta last night, where they kept their consecutive loss streak alive outside of Philadelphia, dropping a 107-96 contest to the Hawks. It was their 11th straight road loss; an accolade that strangely no one wanted to discuss following the game. Not that there weren't other things to complain about.
The rims in Atlanta are SO DAMN LOUD.

— Liberty Ballers (@Philly76ersBlog) March 7, 2013
The Sixers showed close to no sign of breaking the streak, at one point losing by 19, but clawing their way back to a mere three-point deficit in the fourth quarter.
Of course, "three points" was kind of the theme of the night for the Hawks, as they scored 33 of their points that way (The Sixers were 6-for-17). We turn to Arnett Moultrie for the evening's supplemental themes.
Bad night!!!?

— Arnett Moultrie (@amoultrie) March 7, 2013
Yes.
Meanwhile, at the Staples Center: