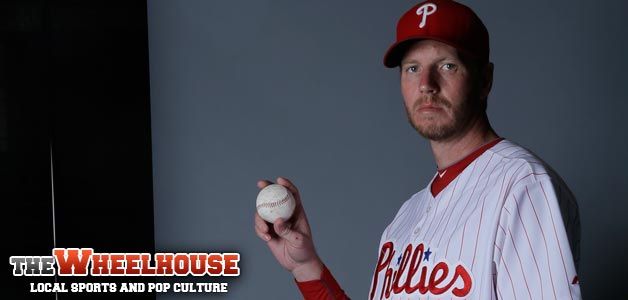 The Wheelhouse is a daily rundown of local sports and pop culture so you can procrastinate all in one place. You're welcome.
It would be hard to imagine one of Roy Halladay's teammates approaching the media, shaking their heads, and openly stating, "Nah, it's over. The guy's done. He's a broken man and we're going to lose 90 games."
This makes the glowing reviews of Halladay's first few pitching sessions in Clearwater a bit tainted, as they call come from people who would directly benefit from Doc being an unflappable monster again. Regardless, the hair-faced Cliff Lee was the latest Phillie to explain just how specifically Roy Halladay's comeback was going to ruin National League hitters. Not only that, but he put Ruben Amaro's offseason acquisitions right up there with those of the Braves and Nationals.
It's a sentiment that would be easier to believe if there were a Big Annual Blockbuster Phillies Freak-out Rumor, but sadly the Phillies have not had that kind of offseason. Until yesterday.
'HOLINESS' OF DONUTS REMAINS UNCONFIRMED
Sometimes, the news is so big, it catches the guys whose job is to follow the team's every move by surprise. And yesterday, the Phillies dropped a bomb.
Holy. RT @foobooz: Federal Donuts Is Opening at Citizens Bank Park - ow.ly/1SyuVy

— Matt Gelb (@magelb) February 19, 2013
Part of the fun will be the six-hour wait in line for a meticulously-made donut, but maybe while you're boiling to death in Ashburn Alley, you can catch a glimpse of Giancarlo Stanton in a Phillies uniform?
The painfully unconfirmed rumor yesterday was that the Phillies were "aggressively pursuing" the Marlins' power-hitting outfielder, despite Stanton's universal appeal and the Phillies' barren wasteland of trade options. It's not going to happen, but for a few minutes, we enjoyed an 11th hour deal rumor that put the Phillies back into playoff contention; though in retrospect, acquiring Stanton is about as likely as nine guys making the same putt at once.
DANCE IT OUT
There's no way of knowing what sort of mood the Phillies will put us in this summer, so no one could blame you for wandering off and getting lost at a music festival (Obvious exceptions being your family, your employer, the guy saving your spot in line at Federal Donuts, etc.) Fortunately, several music festivals have announced their lineups, which should be fun regardless of who is in the Phillies' outfield. [Spoiler: It's Delmon Young]
First, there's Bonnaroo, where in mid-June, the likes of Paul McCartney, Mumford & Sons, Tom Petty, and Wu-tang Clan will help create the hippest 700-acre farm in backwoods Tennessee.
A week later, the far more local Firefly Music Festival begins in Delaware, featuring Vampire Weekend, Alabama Shakes, Red Hot Chili Peppers, Public Enemy, and Tom Petty, who is apparently in for a busy June.
HAIR ON THE SIDE OF CAUTION
You could probably be worried about the Sixers, though. No, not because of their record or because Andrew Bynum's hair is in danger of becoming sentient and terrorizing the streets of Philadelphia. Mostly because the Sixers were trapped on an airplane with this lunatic in a Superman onesie – oh.
That's no ordinary lunatic. That's Nick Young in his evening wear, which he remained cloaked in well after the plane landed. The Sixers may have their issues, but at least they've got style. Except, of course, for the increasingly self-aware thing growing out of Bynum's head.