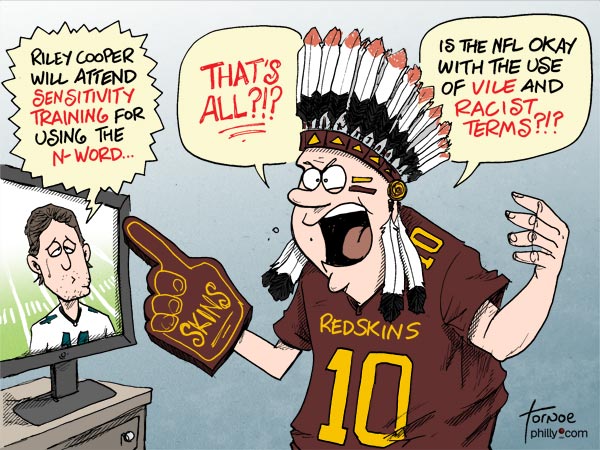 It's day five of the "Riley Cooper said the N-word" controversy, and while the embattled Eagles wide receiver gets sensitivity training for his drunken, sleeveless-shirt tirade aimed at a black security guard, fans have to be hoping that Chip Kelly comes to his senses and cuts Cooper from the roster.
Can you imagine what the season will be like if Cooper stays? Every week, pundits and talk radio hosts will spend countless hours debating how "x-town" and their players will deal with Cooper and the Eagles coming to town. Despite his ability to hide in plain site on the football field last season, does anyone think Cooper won't become distracted by the endless chatter and harsh stares of opposing defensive backs ready to knock his head off?
News items, like Mayor Nutter calling for harsher punishment and Cooper receiving tweets from the videographers, will continue to trickle in, allowing the story to fester throughout the season and continue to widen a divided lockeroom. Just the thing a first-year coach with no NFL coaching experience needs to be dealing with.
And how are the Eagles going to react when real racists, like neo-Nazis, start showing up to games wearing Riley Cooper jerseys (which are currently being blocked from sale on the Eagles' web site)? Eagles fans already have a bad reputation around the country (when does the statute of limitations run out on fans throwing snowballs at Santa in 1968?) - this will become yet another item used to tar and feather birds fans.
At least the NFL has shown some consistently on the issue of race. NFL Commissioner Roger Goodell said that the NFL won't step in a punish Cooper for his use of the N-Word, and they refuse to do anything about the equally-offensive R-word used by a certain team in Washington.
Last week, American Samoa delegate Eni Faleomavaega said on the floor of the House of Representatives that it's time for the NFL to face reality that 'Redskin' is a racist, derogatory term that's patently offensive to Native Americans. Faleomavaega was less than impressed with the response he received from Goodell on the issue.
"Mr. Goodell... in a dismissive manner, declared that the team's name is a 'unifying force that stands for strength, courage, pride and respect.' Give me a break," Faleomavaega said.
The Food Network, which made millions of dollars off Paula Deen, cut the butter-loving chef the instant her use of the n-word was revealed. It's nice that the Eagles seem to want to strike a balance and give Cooper a fair shake, but didn't Lurie learn enough about second chances with Andy Reid to understand when it might be best to simply cut ties and move on?