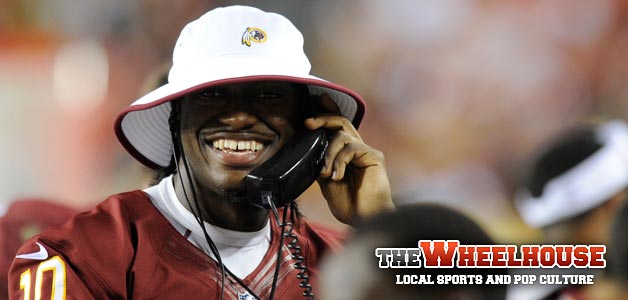 Robert Griffin III and his sewed-back-together knee were hanging out on the sideline last night while the Redskins played the Steelers, where he and best bud Dr. James Andrews shared a public moment in their bromance.
Meanwhile, substitute-RGIII Kirk Cousins was out there doing Griffin's job, until he, too, suffered a debilitating injury.
Which leaves the Washington playbook up to Rex Grossman. Waddya say, Rex?
See? Everything's going to be gross.
I mean fine. Fine.
J.J. ABRAMS PRESENTS 'THE MONSTER THAT APPROACHED PEOPLE'
We know one thing for sure about the weird J.J. Abrams teaser that debuted yesterday: It is definitely a movie teaser.
WHEN WILL THE HURT STOP
The Nationals have broken plenty of hearts this season, with their bad record and disappointing play and disappointing number of beards and unwillingness to let their star players get brutalized by opposing pitching for no reason.
But they didn't stop there, as they acquired David DeJesus from the Cubs and in the process, broke one child's heart without caring.
Not quite sure how to explain all this to a 3 year old who sleeps on a Cubs pillow every night and calls the clubhouse his basement

— Kim DeJesus (@KimDeJesus9) August 19, 2013
THEY MIGHT NOT ACTUALLY BE GIANTS
Check out David Ortiz and Marco Scutaro having an adorable moment during the Red Sox 7-0 destruction of the Giants last night.
HE LIVES AMONG US
Former Flyer and current terminator living among us Ian Laperriere was all set to have a private chuckle while competing in the metaphorical Ironman competition, while being a literal cyborg assassin from the future, when his wiring started to malfunction.
Abandoning that comparison before it gets too confusing, Laperriere's concussion symptoms returned, putting his chances of being in the race in doubt.
Fortunately, here's the stoic picture of him standing heroically at the finish line that proves it's going to take more than concussion symptoms to keep Ian Laperriere from completing a physical challenge.